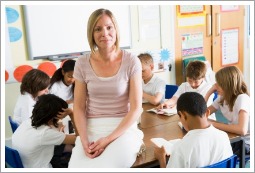 In many faith and cultural traditions it is said that the entire universe was created by "the Word." It is also said that "the pen is mightier than the sword." Words are a magical force that can start wars or create peace, depending on their use. Language is an alchemy of letters and symbols that allow us to bond with our loved ones, communicate with employers, relate to our peers, and accomplish our goals.
Middle school English teachers enter a child's life during highly impressionable years—a time when fitting in and being perceived as "normal" is crucial. The introduction of literature and the power of language in these "in-between" kids' lives can be the awakening to a larger world, one outside of the confines of school pressures and the norms of their family dynamics. A middle school English class can open kids up to a world of infinite possibilities, with an inexhaustible supply of characters. English teachers spark imagination, introduce new possibilities, and empower kids to express themselves and relate to others.
Middle school English teachers provide students with a solid foundation that will profoundly impact on the whole scope of their futures. Without solid knowledge and adequate skill in English a student would be unable to go to college, be far less likely to achieve financial security through gainful employment, fail to comprehend vital written communication such as legal contracts, and be profoundly disabled in relating to the outside world. Without a firm grasp of the English language, a student becomes unable to function in much of the world around him or her.
What is it like?
It's a middle school teacher's job to build a solid foundation in all areas of English. Students will be expected to broaden their vocabulary; learn definitions and proper usage of new words; master punctuation; as well as understand the mechanics of language by gaining skill in sentence, paragraph, and writing structure.
Students learn the basic steps or formulas for writing essays. They learn to write for different audiences, using a variety of different forms of writing, modes, genres, tenses, voices, and perspectives. They learn the basics of research including means of gathering information, citation of sources and presenting research in written and oral reports.
Teachers also help students to improve their listening skills and to deconstruct meaning from written and oral communication. Basic speaking skills—including inflection, word choice, and content—are also standard features of the curriculum.
Middle school English teachers work with kids on their comprehension skills, assuring that they not only can read text but understand the content and the meaning behind the words. They also teach students to use logic as they're reading or researching and writing reports and essays.
Teachers play a vital role in helping kids become media literate, helping kids filter information from the myriad electronic sources out there and discern fact from fiction. They are also often a middle school kid's first exposure to classic and contemporary literature, sparking their imaginations and broadening their horizons.
Middle school is often the first time students learn in blocks of time or periods. Thus, a middle school teacher will teach several different classes a day, working with possibly 100 or more students in a day. A teacher might be assigned to teach 7th grade English, or they might be assigned a mixture of grades and skill levels; it varies by school.
ESL and Bilingual Teachers
English as a Second Language and bilingual teachers are in high demand. Public schools are required to give every child an equal education, regardless of their language of origin. Therefore, teachers with an interest in other languages and cultures might consider focusing on ESL or learning an additional language.
ESL and bilingual teachers also find it easy to put a little adventure in their lives. English is the global language of business, so ESL teachers are in high demand all over the world, from Japan to Lithuania. Bilingual teachers can also teach in other countries, either the country of their second language or a country where they can teach both languages. This field can be quite lucrative, and a lot of fun.
If you're teaching in a public school it's likely that your students will be expected to pass periodic standardized tests. Most schools and school districts clearly outline what skills will be tested and provide teachers with additional training and resources to ensure that students perform well.
In most schools, teachers are given one or more "prep periods" to prepare lessons, grade assignments, or tutor students having difficulties. Teachers are required to communicate expectations and performance with parents. They're sometimes asked to take on extra duties such as lunch attendant or bus duty; in some schools they receive additional pay for this.
If a teacher has achieved a certain level of skill in athletics, he or she might also become a coach for one of the school's sports teams. Some teachers also serve as faculty support for extra-curricular activities such as the debate team, student council, student activist clubs, and service clubs.
The perks of being a teacher include a work day consistent with the student school day—especially helpful for teachers who have, or plan to have, school-aged children—and pay during holiday breaks such as spring break and Christmas vacation. Teachers also enjoy long stretches of the summer off. One trade-off, however, is that teachers generally grade homework on nights and weekends during the school year.
Can I get a job?
According to the US Government Bureau of Labor Statistics (BLS) the national demand for teachers will grow approximately 17 percent through 2020. This figure is about average for expected growth across all professions monitored by the bureau.
However, there are certain pockets of dramatic need for well-trained teachers throughout the country. These include areas which have experienced a population explosion due to economic revival in the private sector; areas that are considered less desirable, such as inner city schools, economically struggling districts, rural schools, and high-population districts; and special education teachers, including English as a Second Language.
There are in fact many programs which will "forgive" student loans if a teacher accepts a contract for a teaching position at a high risk school. For example, teachers can achieve forgiveness on federal, Stafford, and Perkins loans if they teach at a school on the federal list of high-need schools. Many districts also offer incentives, such as paying student loans down or paying them off, if teachers will relocate and teach at their school.
Teach for America (TFA) is one program that may be of interest to new graduates. Teachers make a commitment to teach for two years at one of the areas TFA serves and in return receive full compensation and benefits, including forbearance and paid interest on loans. Added benefits include mentoring and additional professional training. These positions are quite coveted and carry enough prestige to put alumni ahead of the pack when they're looking for other teaching positions.
Famous English Teachers
Sting, musician and former lead singer of The Police
Robert Frost, poet
John Adams, 2nd president of the United States
J.K. Rowling, author of the Harry Potter series
Andy Griffith, TV star of The Andy Griffith Show and Matlock
Kris Kristopherson, country music star
Stephen King, author of nearly 50 best-selling books
What salary should I expect?
According to the BLS, the average middle school teacher's salary is $51,960 per year. Starting pay could range anywhere from $30,000 to $40,000 depending on the district, perhaps even more in high-need districts. Teachers get an increase in pay for years of experience and additional training, certifications and education hours. Teachers who dedicate themselves to additional education can increase their pay dramatically and fairly quickly. Once a Masters level of certification is achieved, teachers may choose to pursue administrative positions such as vice principal, which also increases their pay.
How do I become a middle school English teacher?
A love of working with children is the first requirement for a successful teaching career. Someone who has gravitated toward jobs where they've worked with children, especially middle schoolers, is a natural fit. Middle school can be a particularly rough age for kids as they make the transition from childhood to adolescence. The most successful middle school teachers will have patience and a great sense of humor in regards to tweeners and teenagers—because they'll need it.
Anyone with a thirst for language can become a middle school English teacher. Those transitioning from other communications related fields such as journalism, public relations, marketing, acting, technical writing, and the legal field may be particularly well-suited to become middle school English teachers.
While it varies by state and district, most school districts require at least a bachelor's degree (preferably in the field of English), student teaching hours, a background check, and passage of a state or Praxis exam. Every state requires a teaching certificate, although the requirements for obtaining them may vary.
To find out exactly what your state requires, visit this teaching certification requirement map. If you've already completed some higher education, it's best to have an advisor at your school's education department examine which credits can be counted toward certification and which courses still need to be taken.
Many schools now offer online courses, and even online bachelor's degrees and post-baccalaureate courses. If you're a non-traditional student—with a full-time job, children, or both—an online certification course can be the difference between getting the certificate and staying in your current profession. Masters-Education-Online.com can direct you toward many of these online certificate programs. A mentor guides students step-by-step through the process of certification, creating a time-line, assisting with course choices, arranging student teaching positions and providing moral support and encouragement. If you love young people and want to spend your days immersed in the nuances of language, consider requesting information from your local college or visit Teaching-Certification.com for more details about certification requirements and schools offering teaching certification degree programs.
Schools Offering Accredited Education Programs
<!- mfunc feat_school ->
Recommended Programs for Educators:
Sponsored School(s)
<!- /mfunc feat_school ->