Teaching Special Education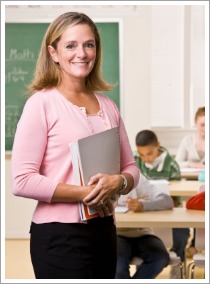 The U.S. Department of Education defines special education as "specially designed instructions to meet the needs of a child with a disability."

Find a School
Research in education and mental disabilities has shown us that individuals with learning disabilities are perfectly capable of becoming productive members of society. The Field of Special Education focuses on providing care and quality educational opportunities to the disabled, by taking into consideration an individual's specific needs and goals.
Special education teachers employ various teaching methods and techniques to help this unique population succeed in every day life. While disabled individuals today are given many of the same opportunities as their non-disabled peers, life wasn't always like this.
What if special education teachers didn't exist?!
A Special Education Teacher's Guide
In this Article …
Related Articles/Websites …
Prior to the 1800s, special education as it is known today did not exist.
According to "The History of Special Education: From Isolation to Integration," by Margret A. Winzer, the majority of mentally disabled had limited social interaction, and were often ignored or abused. In fact, if you were born with a mental handicap during these times, if you weren't killed immediately, you likely would live the rest of your life in destitution, sometimes as a servant or even a prostitute.
For a mentally handicapped person born before the 1800s, life would likely consist of a series of abusive treatments where you weren't recognized in society. Back then, societies focused on the idea that people must be strong, and able-bodied in order to be productive, and those with special needs were often cast out because of their differences.
In the past, these individuals would have been ignored or exiled from society, suffering abuse and neglect at the hands of those who did not understand their disabilities. They might have been portrayed as fools, or even considered dangerous to a population steeped in superstition and myth.
Many people thought the handicapped would simply weaken society – thoughts then used to justify prejudice toward these individuals. Any attempted "cures" for the disabled often revolved around myths like healing oils or magic.
In fact, superstition drove much of the knowledge of the mentally disabled at the time. Winzer notes in her book that of all the afflictions attributed to witchcraft, mental disturbances were the most common. Instead of being treated for their problems, the mentally handicapped often underwent exorcisms, or were simply locked away in institutions as incurable.
Imagine if today, no special education teachers existed, and our knowledge of mental afflictions and learning disabilities was at the same level as it was a little over 200 years ago.
Developing an IEP
A major portion of a special education teacher's time is spent developing a students Individualized Education Program. Because all special education students have unique needs and goals, the educational response must also be unique.
Read more about Developing an IEP…
Today, it's perfectly normal for a blind child to be in class with other non-blind children. However, without advances in understanding disabilities, this child would be forced to beg for food or shelter – an unwanted member of society.
Or consider an adult diagnosed with autism. Today, many corporations and companies employ autistic individuals in specific jobs, giving them careers and additional social skills. Without special education teachers and structures in place to help educate those with autism, an autistic individual today would likely be locked away in an institution to be forgotten.
Needless to say, life for those with special needs has greatly improved with the advent of the Field of Special Education. In the 1990s, the Individuals with Disabilities Education Act (IDEA) passed, requiring public schools to provide the disabled with the same learning opportunities as their non-disabled peers.
Now instead of being shipped to separate institutions away from the general population, special needs students are integrated into general classrooms. While they may receive different work or adjustments to their schedules, they now interact with non-disabled students and learn many of the same subjects, even if it is at a different pace.
Today, specialized teachers work with students with learning disabilities, and IDEA continues to drive special education teachers to develop new teaching methods and research in the field.
How special education teachers provide for students today
Special education teachers have continually advanced their knowledge and research into learning disabilities. Now, these teachers employ developmentally sound, scientifically proven teaching strategies and supports that are designed to increase success in the disabled – not shut them out from public life.
In order to provide the best education possible to these students, a major portion of a special education teacher's job is to develop an Individualized Education Program, or IEP. And IEP examines a student's academic, behavioral, and social needs and plots out pathways to success.
During the development of an IEP, special education teachers identify various mental disorders or learning disabilities in their students.
IDEA Recognized Learning Disabilities:
Autism
Deaf-Blindness
Deafness
Developmental Delay
Emotional Disturbance
Hearing Impairement
Intellectual Disability
Multiple Disabilities
Orthopedic Impairment
Other Health Impairment
Specific Learning Disability
Speech or Language Impairment
Traumatic Brain Injury
Visual Impairment
After identifying a student's specific learning disability, special education teachers discuss possible solutions to these disabilities with the student and the student's parents.
Many special education teachers participate in direct instruction to improve the academic performance of special needs students. This might involve additional tutoring periods outside of the classroom for struggling readers, or participating in group work with multiple students with disabilities.
Sometimes, special needs students exhibit problem behaviors that inhibit their instruction. These behaviors are often the result of misunderstandings, however.
In the book "Advances in Special Education: Current Issues and Trends in Special Education: Identification, Assessment, and Instruction," authors Festus E. Obiakor and others describe five-year-old Ryan.
In class, Ryan was refusing to perform a particular academic activity. Instead of performing the task, Ryan would always yell, "I don't want to," or run away, refusing to participate in the work. Ryan's special education teacher had determined he had a developmental delay in language and speech, and was having difficulty completing the work.
The problem behavior Ryan exhibited was actually a manifestation of the frustrations Ryan felt whenever he was required to complete work. Working with Ryan, the special education teacher determined a way to cease the problem behavior, while also accommodating for Ryan's disability.
Intervention consisted of three basic parts:
First, Ryan's academic task was simplified and broken down into more manageable sections. This allowed Ryan more time to complete a task, and he didn't become as frustrated in class.
Second, teachers immediately gave Ryan high levels of praise and reinforcement whenever he completed a task. This included one-on-one time with his teacher where Ryan was given special attention.
Third, Ryan was simply no longer allowed to avoid completing classroom tasks.
Ryan's special education teacher noted that Ryan was completing his tasks more quickly under the new guidelines, and also ceased avoiding them. This change was marked in Ryan's other classes, and his other teachers noted the difference.
The steps Ryan's special education teacher took to streamline Ryan's education is characteristic of much of the work special education teachers do. Because special education students are mostly integrated in general classrooms, the general curriculum is often modified to fit their needs.
These modifications might include additional instructions, longer time periods to complete tests, adjusted homework schedules, or other more specific accommodations. For example, a blind student might hear questions from a test read out loud.
Special education teachers continually check to see if these supports and accommodations are meeting the needs designated by a student's IED. If not, the teacher will discuss other options with a student's parents and adjust the plan.
Providing opportunities for ALL students
Teachers are constantly evolving and developing new ways to teach students with special needs. At one point in history, these students would have been ignored, forgotten, or subjected to numerous cruel practices and neglectful treatments. Today, special education teachers and society as a whole recognizes that these students can be successfully integrated into classrooms, and can be given the same education as their peers.
With more research being conducted daily on learning disabilities and students with special needs, more special education teachers will be required to meet this recognized population.
The U.S. Bureau of Labor Statistics predicts high growth for special education teachers as more special needs students are identified. If you're interested in a career providing opportunities to this once neglected group, request information from schools offering degree programs in special education.
Schools Offering Accredited Education Programs