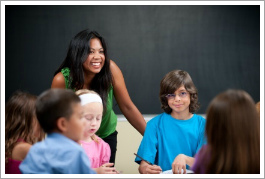 Small footprints are outlined in the spilled potting soil by the gardening center, where apron-clad "workers" scoop, measure, and prepare to plant seeds in styrofoam cups. They giggle as they practice writing the letter "p" for "plant" with their fingers in the dirt.
At another station, a group of young "scientists" measure plant growth using strips of colored paper they glue on a chart, then use flower stickers to count how many it takes to cover each length of paper. Later, the gardening gurus gather to curl up like seeds then wiggle and dance to act out the process of growing into a plant.
Sound like fun? It is fun, because learning time is play time for children. Likewise, teaching early childhood education is all about having fun—with a purpose.
Young children learn best through their senses, so they need lots of hands-on activities that incorporate movement and playtime. For an early childhood teacher, this may mean practicing writing letters in the sand, counting with goldfish crackers, dancing to the alphabet song, creating a play supermarket, or play-acting a story from a book.
Early childhood is one of the most important times in a child's life. They are experiencing dramatic development happening in their motor skills, as well as developing the use of language, thinking, and social skills. Early childhood educators play an integral role in helping children develop patterns of learning and behavior that will affect the rest of their lives—through creating learning activities that are fun as well as purposeful.
If you like having fun and have a heart for helping young children develop and establish a lifelong love of learning, then becoming an early education teacher might be for you.
What is it like?
An early childhood teacher's daily life in the classroom is full of high energy fun and structured play, balanced with times of quiet and rest. Young children thrive on stimulation from activities and the exploration of their environment; however, because of this they can also become easily distracted. Teachers must have learning activities well planned in short time spans to keep kids engaged in a purposeful way. All that action can be exhausting, so snack and rest breaks are equally important. This gives children time to recharge and keep their energy levels up for future activities.
Early Childhood Education Matters
Students who complete an early education program are more likely to graduate from high school. That's according to one study that examined the effect of an early childhood education program and followed the educational paths of students from pre-school through twenty-eight years of age. The research also found that students who had completed the early childhood education program were more apt to graduate on time and attend a four-year college than those children who did not complete the program.
Early childhood teachers can work in a variety of settings, including school or community-based pre-school programs, day care centers, after-school care, or full or half-day kindergarten. A typical day for a teacher would include arriving early to plan lessons, set up and organize materials, and prepare learning activities. When students first arrive, they might have free play time while the teacher welcomes them, as well as helps other children who might have difficulty separating from their parents.
Taking attendance, keeping personal items organized, reviewing calendars, and recognizing birthdays or special events are usually completed early in the day to help children prepare for their future life in school. During the day, hands-on and interactive learning activities typically last from five to 20 minutes, in order to accommodate the short attention spans of young children. These lessons include introducing kids to basic concepts regarding math, science, literacy, writing, social studies, music, and art. Often—as in our opening example—those concepts will overlap, as thus help kids make connections between all the new things they're learning (rather than compartmentalize them, as adults tend to do).
In addition to being introduced to new learning, the environment and structure of the classroom helps children learn how to "be" at school. Teachers help children acquire important social and behavioral skills by modeling and teaching appropriate interactions in both group and individual activities. Puppets and role-playing activities are fun for children and teach important social lessons they need to be successful in relationships.
While the work is often fun, early education teachers need to exhibit a variety of administrative skills in order to stay on top of their job and keep children focused. Teachers will learn to develop their own skills in team building, supervision, analysis and problem solving, decision-making, communication (speaking and listening), as well as learn stress management and time management.
In short, the work is challenging, fun, creative, and at times tiring. But all of that is made up for by the rewards of teaching. An early childhood teacher has a front row seat to watch children's eyes light up with discovery, hear their laughter as they play (with purpose), and see their smiles as they master new skills and grow a little more each day.
Can I get a job in early childhood education?
According to the U.S. Bureau of Labor Statistics (BLS), employment for pre-school teachers by 25 percent between 2010 and 2020. The growth in jobs is largely expected due to the continued focus on the importance of early childhood education, the increasing population of children ages three to five, and the expected declines in student-teacher ratios in the classroom.
Employment growth rates will vary by region, but with a projected increase of 113,600 jobs for pre-school teachers and 281,500 for kindergarten and elementary school teachers by 2020, the outlook for employment for early childhood educators is a positive one.
All You Really Need to Know You Learn in Kindergarten
Children learn more than just information from their early childhood education experiences—they learn about life. Robert Fulghum expressed these lessons learned in his poem and book All I Really Need to Know I Learned in Kindergarten, a great encouragement and inspiration for early childhood teachers. Here are a few excerpts:
Play fair.
Put things back where you found them.
Say sorry when you hurt somebody.
Live a balanced life—learn some, and think some and draw and paint and sing and dance and play and work every day some.
When you go out into the world, watch out for traffic, hold hands, and stick together.
Be aware of wonder.
Remember the little seed in the Styrofoam cup: the roots go down and the plant goes up and nobody really knows how or why, but we are all like that.
What salary should I expect?
Salaries for early childhood teachers vary widely depending on education, experience, and geographic location. According to a May 2011 BLS report, the national average salary for preschool teachers was $30,150, with the range in salaries from $17,750 to $48,080.
The national average salary for kindergarten teachers in 2011, on the other hand, was $52,350 with a range in salaries between $32,100 and $76,900. To search for average wages and job distribution in your specific area and level, visit here.
How do I become a teacher in this field?
Just as with salaries, the requirements for becoming an early childhood teacher vary with teaching position and from state to state. Those requirements range from coursework in childhood development to associate's and bachelor's degrees.
Certification in early childhood education is required in many states and demonstrates that the teacher has met the specific educational criteria necessary to educate students between the ages of three and eight.
Students studying to become certified as early education teachers can expect to study basic school subjects including math, science, reading, language, and social studies. In addition, teachers need to understand early childhood development and the often rapid changes kids experience in comprehension, motor control, emotions, reasoning, and social interaction.
For information on the teaching requirements for your area, visit www.teaching-certification.com
Musical Training Is Good for the Brain
Researchers have discovered that young children who take music lessons show improved memory skills that correlate to non-musical abilities like mathematics, verbal memory, visual spatial processing, and IQ (explore the study here).
Dr. Takako Fujioka, one of the researchers involved in the study, reported this: "Previous work has shown assignment to musical training is associated with improvements in IQ in school-aged children. Our work explores how musical training affects the way in which the brain develops. It is clear that music is good for children's cognitive development and that music should be part of the pre-school and primary school curriculum."
Activity ideas for music education, as well as other subjects and classroom tips for early childhood teachers, can be found at a variety of sources, including PreKinders. For early education research and other helpful resources, visit The National Association for the Education of Young Children.
Schools Offering Accredited Education Programs
<!- mfunc feat_school ->
Recommended Programs for Educators:
Sponsored School(s)
<!- /mfunc feat_school ->