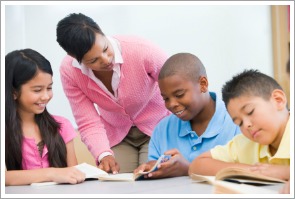 Masters-Education.com is owned and operated by Wiley University Services. Our content originates from many different education content writers. Our views and opinions are our own and for information purposes only. We want this website to serve as a directory guide, or an on-ramp, for educational programs as you explore the many options available. Please note the higher ed landscape is expansive; we do not include every option available and encourage you to conduct your own independent research.
Please view our advertiser disclosure to learn more about our content, how we are compensated, and what to expect if you submit a request for information form.
To get in contact with us for updates or anything else, please email here: olm@wiley.com.
What We Offer
As a teacher, you're always learning—not just because you love learning, but because you have to keep learning. It's your job to keep up with new technologies, new learning modalities, and new discoveries about what makes your students tick. And it's your desire to provide the best education for your students, and prepare them to become lifelong learners—because in our constantly changing society, they'll need to be.
Masters-Education.com will not only help make that task a little easier, but help you stay ahead of the pack.
We've conducted original research, gathering information from federal and state organizations—and from the universities themselves—in order to ensure the most accurate and up-to-date information. You'll find information about teaching in a variety of subjects, the educational climate in each state, interviews with teachers who have completed a master's-level education, and a comprehensive list of schools offering master's programs in education across the country.
A master's degree in education opens up a world of possibilities. It provides you with more career opportunities, affords you greater flexibility in your work, and helps you earn you more money. As you explore this site, you'll discover more opportunities to do all these things and more.
Whether you're a long-time teacher or a student entering the field, we hope you'll find this site useful, and share it with others who'll benefit from it as well. Thanks for visiting Masters-Education.com!
Please feel free to Contact Us with any questions or comments regarding the content of our website, or if you are a school representative, please inform us of any updates of your school's degree program information.