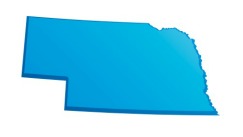 The Nebraska landscape stretches into the horizon, enhancing the expansiveness of Mother Nature. In fact, you can see all the way to Colorado from well inside Nebraska's borders. The people are salt of the earth, and the weather features the best of all four seasons. As its state slogan declares, Nebraska is "The Good Life."
Teachers particularly enjoy working in Nebraska. Education is greatly valued, and academic standards are high. The cost of living is fantastic, and helps make a teacher's salary stretch as far as the local landscape. Nebraska's economy is recovering nicely, and there are many art and cultural institutions to keep a teacher's intellect stimulated.
Educational Climate in Nebraska
Nebraska has high academic standards and equally high academic performance. Ninety-four percent of students scored proficient or higher on the 2011 National Association of Education Progress (NAEP) writing test; and 90 percent of Nebraska students met the national standards in math.
Teaching salaries in Nebraska
Teacher salaries in Nebraska are very competitive, compared to the national average. A freshman teacher may earn in the $30,000s, but there are a multitude of ways to increase that salary through experience, extracurricular activity, and additional education. The following are median salaries for Nebraska teachers:
Elementary School Teacher: $46,390
Middle School Teacher: $48,810
High School Teacher: $46,810
Technical Secondary Teacher: $48,860
Special Education Teacher: $46,950
Source: U.S. Bureau of Labor Statistics
However, Nebraska educators and legislators are also wrestling with the requirements and restrictions placed upon them by No Child Left Behind (NCLB) Act. Many in Nebraska feel NCLB is a "punishment approach" that doesn't consider the reality of educating real kids with real problems; and thus, they prefer that state and local assessments take precedence over federal mandates. One superintendent pointed to the challenge of having 12,000 students in one Omaha district, with many new English-language learners and 500 homeless kids, and declared it unrealistic to expect those kids to perform equally with their peers.
Many educators and politicians in Nebraska have suggested that educational success be measured according to actual yearly progress, as opposed to the pass-fail measurement in No Child Left Behind legislation. Yet, Nebraska is one of only two states in the Midwest, and one of only 13 states overall, that has not applied for a No Child Left Behind Act waiver.
Nebraska is also seeking to raise the scores of its low-performing, minority, and economically struggling students. The state has one of the highest achievement gaps in the nation, including a 51-point gap in eighth-grade mathematics. It is believed that one factor in this is how funds are distributed throughout the state, especially among Nebraska's many rural districts. To rectify the situation, a number of rural districts have been absorbed into larger, better-funded districts. Districts within cities have also been consolidated into one district per city in many cases, allowing for more equitable funding.
In addition, the Nebraska Department of Education and The Nebraska Center for Research on Children, Youth, Families and Schools (CYFS) completed a two-year study of the achievement gap in 2012, taking an especially close look at Nebraska's early childhood education programs and how they translate into performance, as students progress through elementary school. As a result of this research, effective methodologies have been identified and recommendations have been made, so Nebraska educators can better address the achievement gap.
Career Outlook in Nebraska
Through 2020, there is expected to be moderate job growth in the field of teaching in Nebraska. Middle schools will have the largest increase in student population, and therefore in teacher hiring. Projected job-growth figures are as follows:
Elementary School Teacher: 6.1 percent
Middle School Teacher: 9.3 percent
High School Teacher: 5.7 percent
Technical Secondary Teacher: 29.2 percent
Special Education Teacher: 10 percent
The state also reports teacher shortages in a number of areas including art, English as a Second Language, foreign language, language arts, mathematics, natural science, and special education. Prospective teachers in these specialties will have better chances in gaining quick employment.
What are some of the benefits of becoming a teacher in Nebraska?
Nebraska provides teachers with highly competitive salaries, which stretch quite far considering the comparatively low cost of living in Nebraska. Teachers in Nebraska receive comprehensive compensation packages that include health benefits, dental plans, life insurance packages, and paid sick days, as well as extended vacation during summers, spring break and Christmas.
In addition, certain areas of Nebraska have also won spots on "Best Places to Live" lists in several top magazines. For example, Papillion ranked number five on CNNMoney's 2011 list; the markers used were cost of living compared to higher-than-average salaries, plentiful recreational opportunities, low crime rates, and quiet family-friendly atmospheres. Likewise, Forbes Magazine ranked Omaha and Lincoln among its top 10 livable metro areas, citing arts and culture, economic benefits, and livability among their many benefits
The Nebraska State Education Association is the state teachers' union, responsible for collective bargaining with the State Board of Education and Nebraska State Legislature on such matters as salary, working conditions, benefits, paid time off, statewide employment policy, and disciplinary matters. Teachers often have access to additional resources and benefits when they join other teaching organizations (see Getting involved in Nebraska below) in Nebraska.
Getting involved in Nebraska
There are several organizations specific to Nebraska teachers, including:
Once a teacher enters retirement, after 30 years of service or when that teacher meets age requirements, he or she is enrolled in the Nebraska State Education Association-Retired. The association guarantees member benefits and services such as supplemental health insurance, pensions, life insurance, and retirement and financial planning resources.
How do I become a teacher in Nebraska?
In order to obtain certification in Nebraska, you must obtain a bachelor's degree, with a minimum of 60 hours in your particular teaching area, as well as complete an accredited teacher preparation program, including student teaching requirements.
Prospective teachers must also receive training in human resources, human relations, and special education; have obtained college credit or recent employment in the last five years; possess a letter from the superintendent or school board letter requesting issuance of certification; and complete at least one course dealing with the education of children. Candidates must also demonstrate basic skill competence on the Praxis tests in reading, writing, and mathematics.
To find out which specific teacher preparation and teacher certification programs will work best for you, visit the Nebraska teaching certification website.