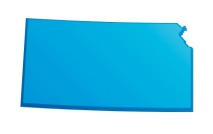 Education accounts for about 53 percent of the general fund in Kansas. Moreover, education was the single greatest target for federal job-creation and job-saving stimulus monies used by the state in 2009. Clearly, education is a big focus for Kansas lawmakers and citizens.
What's the education climate in Kansas?
With the end of federal stimulus money, and the continued economic recession, budget issues in Kansas are motivating a great amount of discussion regarding how to improve the funding of education in the state. Since Kansas currently has much higher overhead costs for its schools than most other states, various reforms are being debated to improve how education funds are spent. One proposal requires online reporting of all school expenditures to increase transparency and accountability. Another proposal involves abolishing the Board of Regents and Board of Education, replacing them with a smaller administrative office headed by an Education Secretary appointed by the governor.
Average Salaries for Kansas Teachers
Elementary School:
$44,660
Middle School:
$46,050
Secondary School:
$45,660
All Kansas Jobs:
$40,030
Source: US Bureau of
Labor and Statistics
Last August, the Kansas Legislative Division of Post Audit (LPA) determined that the state could save a great deal of money simply through more efficient use of teachers and buildings. The LPA found that none of the districts had a systemic process for managing inefficiency. However, even as the LPA identified opportunities to do so, the group Schools for Fair Funding began pursuing a lawsuit demanding increased funding for education.
Governor Sam Brownback recently proposed joining several other states in implementing a teacher-evaluation framework for determining pay raises. Under the proposal, teachers would be rated through a combination of peer evaluation and increase in student achievement. Highly effective teachers would receive additional salary bonuses, while teachers rated ineffective for two consecutive years would be dismissed. Although similar to proposals passed in Indiana and Idaho (and debated but not yet passed in Iowa), fierce resistance to the measure from the dominant teachers' union resulted in putting the proposal being set aside.
Further education reform proposals are expected next session. One proposal is to increase opportunities for establishing charter schools. (Currently, school districts have total authority over authorizing charter schools, giving them effective control over the growth of their competition.) Under such a proposal, teachers in rural areas could reorganize to offer better education with lower overhead costs. Another major proposal being discussed is HB 2367 (currently referred to the Committee on Education) promoting School Choice, which would offer Kansas parents tax credits/vouchers for enrolling their children in qualified public or private schools.
How's the job outlook for Kansas teachers?
Kansas needs about 1,700 new teachers each year (counting both growth and replacement of teachers retiring or otherwise leaving the profession). Elementary school teaching is currently the fourth fastest-growing job in Kansas. Growth in middle-school teaching positions is also faster than the growth for jobs overall; however, growth for high-school teaching positions is slightly slower. The best job prospects for high-school teachers are in math, science, and bilingual education.
However, the job outlook for non-teaching education positions is different. The federal Department of Education saved more jobs with its 2009 stimulus spending than did any other federal department; but the situation now is that Kansas has the eighth-highest number of full-time education employees (per 100 students) in the nation, although it has only the 11th-highest number of teachers. In the absence of further stimulus funds, future education budgets might have to be balanced by reducing the number of non-teaching education employees.
What benefits do Kansas teachers have?
Kansas schools are on a traditional schedule, with summers off. Counting summer and winter breaks, teachers get 15 weeks worth of vacation time. Additionally, they have 80 hours of sick leave for use during the year, plus 16 hours of personal leave. Currently, salary is based on years of experience and degree earned. There are five gradations for degree in the salary schedule: bachelor's degree, bachelor's degree with 15 hours of graduate credit, bachelor's degree with 36 hours of graduate credit or master's degree, master's degree with 15 additional hours of graduate credit, and master's degree with 30 additional hours of graduate credit. Additional money can be earned by obtaining National Board Certification, as well as for coaching teams or sponsoring clubs.
Benefits packages for Kansas teachers include health, dental, vision, disability and life insurance; tax-sheltered annuities; and a college tuition program for furthering their education. Additionally, teachers are enrolled in the Kansas Public Employees Retirement System (KPERS), and may retire with full benefits at the age of 65 (or at the age of 62, if they've taught for at least 10 years). Teachers may also retire early, getting a reduced benefit. The earliest one may retire is at the age of 55, receiving 41 percent of the benefit they would receive by retiring 10 years later.
Several organizations in Kansas are devoted to teacher development, and to providing educational resources to Kansas teachers. These organizations often publish and discuss research on teaching programs and techniques, and often offer classroom activities or curriculum supplements to improve teachers' classrooms.
What are the credentialing requirements in Kansas?
In order to be licensed to teach in Kansas, you must complete an approved teacher preparation program for the subject or grade level you wish to teach (elementary education for K-6, or a core subject like math, English, or biology for middle and/or high school). You can complete such a program as part of your bachelor's degree; or, if you already have a bachelor's degree in a core subject, you can complete an alternative program as post-baccalaureate work. Your teacher preparation program will include a period of intern teaching under the supervision of a master teacher. When you complete your program, you will have to pass two licensure tests: the Praxis II appropriate to your content area, and one of the four Praxis Principals of Teaching and Learning exams.
Kansas teaching licenses come in three tiers: an initial license (valid for two years), a professional license (valid for five years, obtained after teaching for two years and completing a performance assessment), and an accomplished license (earned completing all the requirements for the National Board for Professional Teaching Standards). Find additional information about teaching certification requirements in Kansas.