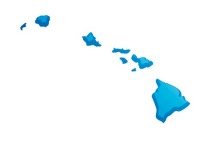 With its beautiful beaches and steady warm temperatures, Hawaii attracts a diverse demographic looking for life in paradise. And because of its beautiful climates and heavy tourism, the permanent population in Hawaii is growing.
There is a demand for new teachers on many of Hawaii's smaller islands, as well as the rural areas of Oahu, as they become more populated. By teaching in Hawaii, you have the opportunity to make a difference in the lives of students—even while enjoying postcard views and perfect weather year-round.
Educational Climate in Hawaii
In addition to its unique climate, Hawaii also has a unique educational atmosphere.
Hawaii is the only state with a unified statewide school system. The Hawaii Department of Education (DOE) oversees 283 public and charter schools, employs 13,000 teachers, and serves more than 175,000 students. Hawaii chooses to operate under a central education authority, so that funds are distributed equitably to school districts throughout the state. This is most beneficial to rural areas, which would otherwise have difficulty raising funding in their own communities.
What kind of salary can I earn in Hawaii?
A teacher in Hawaii earns a competitive salary based on experience, education, and position he or she is hired for. The average starting salary is between $33,000 and $35,000. Teachers with more experience, or in-demand special certifications, can earn salaries in the $50,000 to $58,000 range.
Teachers who obtain more graduate education hours and higher degrees receive significant bumps in pay. Annual cost-of-living increases also improve the quality of life for teachers.
Source: Hawaii Department of Education
One integral part of the statewide school system is the School Community Council (SCC), adopted in 2004. The SCC shares decision-making responsibilities with schools' local communities, and encourages parental participation. The system empowers the communities, which in turn is expected to improve school performance.
Although it had been formerly placed under fiscal sanctions by the federal government, Hawaii demonstrated enough improvement in the 2011-2012 school year to retain a $75 million Race to the Top grant, provided by the U.S. Department of Education for educational reform.
Hawaii is unique in other ways, including a student population with multi-ethnic and multi-cultural backgrounds. There is no majority ethnic group in Hawaii. The population is made up of Caucasians, Japanese-Americans, Filipino-Americans, and Chinese-Americans, as well as native Hawaiians. The population also has many non-U.S. citizens as permanent residents. Teachers are expected to embrace the islands' multi-ethnic environment, and use it to benefit and enrich the teaching experience.
Hawaii is using new technology to improve teacher performance in the classroom. Using iPads donated by the business community, administrators are able to observe teachers in the classroom, monitor student assignments in real time, and provide consistent, immediate feedback to improve teacher performance and support.
Hawaii is a very unique state:
Hawaii is made up of eight islands, covering more than10,932 square miles of land.
Prior to becoming a U.S. territory in 1900, Hawaii was an independent kingdom governed by monarchy.
Hawaii was the last territory granted statehood into the U.S., in 1959.
The two main businesses in Hawaii are tourism and agriculture.
Hawaii has two primary languages: English and Hawaiian.
Geographically speaking, Hawaii is actually considered the northernmost group of islands in Polynesia.
Career Outlook in Hawaii
Hawaii is expected to recruit 1,500 new teachers annually, although many of these job openings replace existing positions. As the population in rural areas and some smaller islands increases, Hawaii will have a higher demand for teachers in the basic education disciplines, such as English, mathematics, and science. There is a steady stream of teachers reaching retirement age, whose teaching positions are becoming available. Because much of Hawaii is agricultural, there is also a high demand for teachers in vocational and technical education.
Hawaii is under federal court order to provide adequate special education services. The state has been ordered to improve its assessment criteria, better identify children who will benefit from services, and recruit more highly qualified staff. Therefore, the state DOE is eagerly recruiting special education teachers to fulfill this requirement.
What are some of the benefits of becoming a teacher in Hawaii?
In a word: Hawaii. Sandy beaches, catching a wave after school, laid-back island culture, and being the envy of the free world are just a few of the perks that make teaching in Hawaii attractive to just about anyone.
There are professional benefits as well, though. Hawaii offers competitive teacher salaries (see above) and several other employee benefits including health insurance and retirement plans, which are available to most teachers. Teachers in the Hawaii school system receive their retirement benefits through the Hawaii Employees' Retirement System (ERS).
Teachers who are eligible may also enroll in benefit plans offered by the Hawaii Employer-Union Health Benefits Trust Fund (EUTF). Their plans include medical/chiropractic, supplemental medical, prescription drug, dental, and vision insurances.
Getting involved in Hawaii
Check out these helpful links to find more information on teaching in Hawaii:
Teachers may receive additional benefits by joining the various teaching organizations available in Hawaii (see below). The Hawaii State Teachers Association functions as a teacher's union, negotiating benefits on behalf of teachers. Some teacher organizations offer additional health insurance and teacher-advocacy services, as well as host professional development opportunities. Another benefit of these organizations are the professional journals they publish, containing research, activities, and classwork that help provide a more positive educational experience for students.
How do I become a teacher in Hawaii?
A potential teacher must have a bachelor's degree in his or her area of focus; and in order to teach in any core area he or she must earn the federal designation of Highly Qualified. In Hawaii, that means candidates must possess a Hawaii Teaching License or be nationally certified, as well as pass the PRAXIS exam in their particular teaching focus.
For additional information on teacher certification, additional advice on documents, the certification process, contact information, and links to more information visit teaching-certification.com.