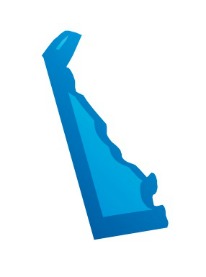 Beaches and lighthouses, scenic byways, romantic hideaways, tax-free shopping, and remarkable U.S. history are just a few of the features that draw people to Delaware. The First State is growing and adding new jobs. In fact, nearly one million companies have made tiny Delaware their legal home, making it an appealing place to live.
When the local economy grows, the need for teachers grows. Thus, Delaware is in need of qualified teachers and instructors who are passionate about learning and providing a quality education for their students. Educators in Delaware have the opportunity to touch a child's heart, and to inspire and motivate students to believe in themselves.
What kind of salary can I earn in Delaware?
Delaware has the 10th highest teaching salaries in the nation. Below are samples from the 2012 salary schedule (excluding annual cost-of-living increases):
1st year with Bachelor's Degree:
$27,506
11th year with Bachelor's Degree:
$34,589
1st year with Master's Degree:
$31,261
5th year with Master's Degree:
$33,112
11th year with Master's Degree:
$40,434
1st year with Doctorate Degree:
$35,554
11th year with Doctorate Degree:
$45,316
16th year with Doctorate Degree:
$50,190
Source: Delaware State Education Association
Educational Climate in Delaware
Delaware has proven to be one of the most innovative, outside-of-the-box thinkers in terms of education and education reform. The state was one of two 2010 winners of the Race to the Top $600 million award, from the U.S. Department of Education. States were judged by past success at systemic educational reform, improving teacher quality, creating data systems, and turn-around by lowest-performing schools. The state continues to embrace new educational models, create individualized learning plans, and incorporate many paths to graduation.
In addition, Delaware has frequently partnered with both private corporations and non-profit organizations, in order to meet high educational standards and further reform education. These partnerships have repeatedly reaped fruit in terms of educational innovation, and examples abound.
In May 2012, the Delaware Department of Education launched a statewide program for 9th- and 10th-graders, which will create a customized learning path for each student based on testing data. Beginning with the 2012-2013 school year, student performance on the Delaware Comprehensive Assessment System (DCAS) and the National Assessment of Educational Progress (NAEP) will be used to map personalized paths for freshmen and sophomores in all 43 Delaware high schools. In order to implement this program, the state will be contracting with CompassLearning, which had great success with trial programs in Seaford, Colonial, and Brandywine districts.
InnovativeSchools, a Wilmington non-profit organization that aids districts and charter schools, is also pushing the boundaries of public education in Delaware, partnering with communities to identify effective education models that meet the needs of specific communities. The organization focuses on helping communities start new charter schools, as well as redesign existing schools with updated teaching models with proven outcomes. The Delaware State Board of Education voted to add two more charter schools in Wilmington and Dover in 2012, both driven by this partnership.
The founding board of the Wilmington school is a partnership between InnovativeSchools and the Latin American Community Center, another Wilmington nonprofit, and will focus on Hispanic English-language learners. The charter school in Dover is an Early College High School at Delaware State University, designed to serve first-generation college students. Right on the college campus, this new high-school education model will challenge poor and minority students to work toward earning a post-secondary degree while still in high school.
Career Outlook in Delaware
Getting involved in Delaware
There are several teacher organizations specific to Delaware teachers, including:
As more teachers retire, student enrollment increases, and new charter schools are created, there will be a higher demand for teachers in Delaware. The U.S. Department of Education notes several teacher shortage areas in the state. Individuals looking for the best chance of obtaining jobs should focus on earning certification in areas such as administration, art, mathematics, English, English as a Second Language, music, science, special education, speech pathology, and reading.
The majority of educator job growth in Delaware will derive from increased school enrollment and new schools. Public schools in Delaware have seen a steady increase in student enrollment during the past 10 years. The state reports more than 130,000 students enrolled this school year. The majority of Delaware residents are still in childbearing years with a median age of 38, which indicates further growth in school enrollment.
Economic growth is another positive sign for teachers looking for employment. Delaware remains the chosen home of 63 percent of all Fortune 500 companies. At the end of 2010, there were more than 909,000 active business entities in the state—a 2.5 percent increase from 2009. Delaware shows a steady growth in business—which is appealing for families, including those of teachers and their spouses.
Although the federal Education Jobs Act was not renewed, Governor Jack Markell's 2013 annual state budget proposal attempts to replace those much-needed dollars with an additional $27.4 million from the state coffers, including funding for 111 new teachers.
What are some of the benefits of becoming a teacher in Delaware?
The cost of living in Delaware is lower than average, making it easier for teachers to stretch their salary dollars. Delaware school districts provide major health care plans for their teachers, including prescription drug coverage, dental, emergency care, and vision. Other benefits include group life insurance, college course reimbursement (up to two classes per year), long-term disability, 10 sick days per year, a 188-day work year, professional development, and a mentoring program for new teachers.
Delaware provides a state retirement plan for their teachers. Teachers with 30 years of service may retire at any time. Teachers with 15 years of service may retire at age 60. After five years of service, teachers may retire at age 62.
Where can I work in Delaware?
There are 17 school districts in Delaware. Some of these schools and regions include:
Information on all districts can be found at the Delaware Department of Education website.
Teachers may receive additional benefits by joining the Delaware State Education Association (DSEA). The DSEA is a union of public school employees that advocates for the rights and interests of its members and outstanding public education for all students.
How do I become a teacher in Delaware?
The state of Delaware welcomes new teachers, but certain requirements must first be met. Before a potential teacher can be hired in Delaware, he or she must first earn a bachelor's degree from an accredited, four-year university or college. After the degree is earned, a teacher certification can be obtained from the state.
Teacher preparation programs are offered by various institutions in Delaware. Following the coursework, teachers in Delaware are required to pass a PRAXIS examination. This test ensures that teachers are well-prepared and highly qualified in their specialization.
For more information on teacher certification in Delaware, in addition to links and advice regarding documents, the process, and contact information, visit teaching-certification.com.