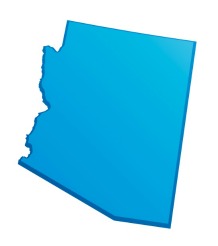 Arizona has become a coveted home for many job seekers. From the breathtaking beauty of the Painted Desert and the Grand Canyon, to the richness of its Native American culture and the urban buzz of Phoenix—not to mention the state's year-round warm temperatures—there's much to attract both permanent and seasonal residents to the state.
The state's current population boom also makes it a desirable destination for those looking to build a career in teaching—and recent educational changes have made Arizona that much more attractive. These moves, taken in the face of the current economic climate, demonstrate the state's ongoing commitment to the education of its students.
Educational Climate in Arizona
In 2012, Arizona legislators applied for ESEA ("No Child Left Behind") waiver. In order to qualify, The Arizona Department of Education joined with the Partnership for Assessment of Readiness for College and Careers (PARCC) and the National Center and State Collaborative to explore educational models and better assess school effectiveness. Legislation was also passed to improve teacher and principal evaluations; student academic progress now counts toward 33 to 50 percent of each evaluation score.
What kind of salary can I earn in Arizona?
The following are current median salaries for teachers in the state:
Elementary School Teacher:
$39,000
Middle School Teacher:
$39,400
High School Teacher:
$42,000
Source: U.S. Department of Labor
In December 2011, the state applied for, and was awarded, a $25 million Race to the Top III grant. The money has been directed toward a number of initiatives, including the creation of a data system enabling parents, teachers, and administrators to more effectively monitor student and school performance; the implementation of more stringent education standards and teacher training; and the advancement of science, technology, engineering and mathematics (STEM) education.
The state also recently expanded its school-choice program, extending eligibility to students enrolled in underperforming schools, those whose parents are active members of the military, and foster children in the process of being adopted.
Arizona's commitment to education was also demonstrated by seven public high schools making the 2012 U.S. News & World Report Top 500 Gold Medal list. An additional 32 Arizona schools earned silver medals, and 79 earned bronze.
The state's aggressive commitment to legislative reform and increased state-based control will allow its educational community to effectively address the needs of its growing, and increasingly diverse, student population.
Career Outlook in Arizona
The Arizona Department of Administration reports that the overall growth rate of teaching jobs is expected to increase at a better-than-average rate of 9.9 percent. This growth should help alleviate Arizona's current student-teacher ratio of 21.3—the second-highest in the nation.
The Bureau of Labor Statistics predicts that a high number of elementary and secondary teachers will retire between now and 2020, resulting in increased opportunities for teachers who are ready to launch their careers. The U.S. Census Bureau reports that between 2000 and 2010, the population of Arizona grew 25 percent, well outpacing the national growth rate of 9.7 percent. The continued population boom in the state will also lead to a greater need for teachers.
The U.S. Department of Education notes that significant teacher shortages already exist across the state, across all educational levels. Because of the high rate of immigration, teachers with certification in English as a Second Language (ESL) or bilingual education (BSL) greatly improve their chances of being hired; and those with dual certifications in ESL/BSL and special education are especially marketable in the state.
What are the benefits of becoming a teacher in Arizona?
Although it isn't directly reflected by salary alone, Arizona's investment in teacher salaries and benefits is among the highest in the United States. Teacher wage increases in Arizona are linked to student achievement and the achievement of teacher-developed goals.
Benefit packages vary by school district, but most provide health-care plans for their teachers. For example, Phoenix Elementary School District #1 provides its teachers with access to health, dental, and vision insurance, as well as a basic flex plan which allows them to set aside a percentage of their income for medical expenses; the money deferred to this plan is also sheltered from income taxes.
Teachers may receive additional benefits by joining the various teaching organizations (see teacher organizations below) available in Arizona. The Arizona Education Association is the state affiliate of the National Education Association; membership privileges include discounts on insurance programs as well as other money-saving opportunities.
Other teaching associations offer additional insurance programs, as well as networking and professional development opportunities. For example, most of these organizations offer annual meetings that provide opportunities for networking, training, and exposure to new teaching techniques.
Arizona teachers generally enter the Arizona State Retirement System. The state uses the retirement age of 62, instead of relying on years of service, to determine eligibility to retire.
How do I become a teacher in Arizona?
Arizona teachers must first obtain a bachelor's degree, and complete a state-approved teacher preparation program in their chosen specialty, before seeking certification.
In addition, all applicants for a provisional teaching certificate must obtain a Structured English Immersion (SEI) Endorsement. This requires completion of 45 clock hours or 3 semester hours of state-approved SEI training; an additional 45 clock hours or 3 semester hours must be completed within three years before applying for the Standard Teaching Certificate. Applicants for the provisional teaching certificate must also show proof of completion of a college course in the Arizona Constitution and a course in the U.S. Constitution.
For more information on teacher certification, in addition to links and advice regarding documents, the certification process, teacher-preparation programs, and contact information, visit the Arizona teaching certification website.