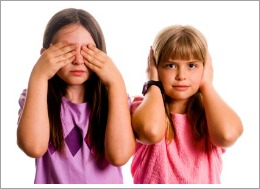 Anne Sullivan, the teacher who enabled a blind and deaf Helen Keller to communicate, motivated her students with this principle, "Keep on beginning and failing. Each time you fail, start all over again, and you will grow stronger until you have accomplished a purpose." As Anne put this principle into practice, she changed perceptions of, and expectations for, the blind and the deaf, opening doors which had previously been closed to them.
Because the specializations of teaching the blind and the deaf can be especially challenging, they can also be especially rewarding. While teachers of the blind and deaf do have to make sure their students stay on task and learn the required curriculum, a huge part of their job is teaching their students to become independent and motivating them to keep trying regardless of setbacks.
These students certainly have added challenges. But as Anne and Helen proved, they are nothing that can't be compensated for and overcome. Teachers of the blind or deaf need to see the hurdles ahead, and then help their students to clear them.
What is it like?
There are many educational opportunities for teachers of the deaf or blind. One common work situation is in the public school system as an itinerant teacher—a teacher who travels from school to school, giving special instruction to specific students who are mainstreamed into regular classrooms most of the time. Sometimes you could be teaching small groups; other situations might require individualized teaching to one student at a time. The down side of this type of teaching position is that you might spend a lot of time traveling back and forth.
Another public school situation is working in a generalized special education classroom or resource room. There could be a multitude of students with a wide variety of special needs. Students might be deaf or blind, hard of hearing or have vision difficulties. They might also have attention deficit disorder, autism, cerebral palsy, Down Syndrome, or other physical and developmental disabilities. It's a package deal in this type of teaching environment. You need to be willing to work with students facing a variety of challenges; otherwise this job can become extremely frustrating. Working in a special education classroom takes a very special person, a person who feels a deeper calling to help special populations.
Many teachers of the deaf or blind love teaching in a dedicated deaf school or blind school. The benefit of this is that you can spend your teaching career using your specialized skills and immersing yourself in the practice of teaching the deaf or blind. One potential down side is that you may have to relocate to be near the school—perhaps even across the country.
Almost every state has a dedicated school for the deaf or hard of hearing, and some states have more than one such school. Students at these schools can either live there, similar to a boarding school, or can come for the day, as with a typical education situation.
Assistance dogs
Students may bring guide or assistance dogs to classes whether they are blind or deaf. Therefore, part of your job may be to help students learn to interact with and train their dogs.
Guide dogs act as a person's eyes, providing blind people with mobility and independence. Hearing dogs, by the same token, act as ears for the hearing-impaired, alerting their owners of dangers they can't hear such as fire alarms, trains, or oncoming cars. A hearing dog must be trained to understand commands that might be sounds or hand signals, rather than the word commands other dogs respond to. These dogs provide the sight- and hearing-impaired with unconditional love and acceptance.
Another issue to consider is that you'll probably have more job burdens than a mainstream school teacher does. If you're teaching in a public school system, you'll likely have students of a wide variety of ages, grade levels, and skill levels—and each with their own Individualized Education Program (IEP). That's a lot of lesson planning.
Also, if you're at a dedicated school for the blind or deaf, you'll have to teach the same curriculum as typical teachers do, but have the added responsibility of communicating to those who can't see or hear. Sure, you'll have tools and resources, even technology, to help you do that, but it's a significant additional challenge regardless.
Nonetheless, this might be the perfect career for someone who's motivated to help and serve others. For someone with a combination of compassion, patience, sense of humor, and who loves a good challenge, this could be a very fulfilling career choice.
Can I get a job?
Special education teaching jobs in general are expected to grow 17 percent from 2010 to 2020, a little higher than the national average for all jobs. In addition, teachers of the blind or deaf are highly sought after. The additional training required for these jobs means that there aren't as many qualified teachers available. Also, school districts are likely to take additional certifications into account when offering a teacher a contract.
The National Association of Special Education Teachers can help you learn more about working with special education kids, as well as provide resources and job listings. The National Federation of the Blind is another great resource for teachers wishing to work with this population. There is a job search feature on the site, as well as other resources such as interactive workshops, mentors, classroom experience, and scholarship assistance. For resources and job listings in deaf education, visit DeafEd. Also, The Association of College Educators – Deaf & Hard of Hearing offers educational assistance, special conferences, and many other resources.
What salary can I expect?
Transitioning to technology
Teaching the blind and deaf is becoming more and more technologically oriented. Therefore, you'll not only have to learn about technology assistance devices, but pay special attention to how these devices are impacting your students.
For example, there are special hearing devices that allow more audio information to be transmitted directly to students. While this can be very beneficial, it might also be a difficult transition for students not used to all the auditory stimulation that hearing people automatically tune out—fabric rustling, houses creaking, people breathing, gum chewing. The same is true with blind students who may need help navigating with sticks, help using computers with Braille or audio components, and even everyday household things such as cooking utensils.
The U.S. Bureau of Labor Statistics reports that the median pay for special education teachers, covering all specializations, is $53,220. High school teachers average slightly more at $54,810, while elementary level teachers make an average of $52,250. Teachers' pay increases with number of years of experience and additional training.
Many teachers of the deaf and teachers of the blind enter the profession at higher levels of pay, however, because they've already obtained their master's degrees while acquiring their specialized training in deaf ed or blind ed. Those with master's degrees are also qualified to move into administrative positions. Many teachers who spend so much time and effort working directly with blind or deaf kids don't want to give up the constant interaction with students; however, if you work in a school dedicated to teaching the blind and deaf, this becomes a non-issue.
Another consideration is location. There are blind and deaf children in every location, but depending on place there are far fewer specialized teachers who can contribute to their education. As a result, smaller rural districts, high-population inner city districts, economically challenged communities, and high-risk schools often pay higher salaries and offer other incentives such as signing bonuses and loan forgiveness.
How do I become a teacher of the blind or deaf?
Teachers of the blind or deaf in dedicated schools will also need a foundational education in whatever their subject of choice is. Just as regular math teachers need a degree in math, so do math teachers who will work with blind and deaf students. Likewise, elementary school teachers must have an elementary ed degree, and so on.
If you're drawn to working with deaf and hard of hearing students, you'll need to be fluent in American Sign Language. You can also focus on Oral/Aural training, which is early intervention training for helping deaf and hard of hearing students learn to hear, with technology such as hearing aids or cochlear implants. Other specializations include bilingual and comprehensive deaf education. Visit DeafEd Teacher Preparation Programs to find specific information about each state's available certification programs.
Teachers of the blind and visually impaired may need to get a National Orientation and Mobility Certification (NOMC) and/or the National Certification in Literary Braille (NCLB), both of which are offered by the National Blindness Professional Certification Board (NBPCB). Not every state or school requires these certifications; however, they are becoming more prevalent and are widely acknowledged as evidence of being a well-qualified teacher. Those who pass these tests are highly sought after teachers who find it easier to obtain a position.
Once you've finished your schooling and specialized certifications, you'll need to earn a teaching certificate. This will involve student teaching, and a Praxis Test or state exam. Each state requires something different, so visit the Teaching Certification website for specific information on what your state requires.
As Anne Sullivan related the experience of her greatest teaching joy, "A miracle has happened! The light of understanding has shone upon my little pupil's mind, and behold, all things are changed!" If this is the kind of emotional experience you want in your career, you may have found your calling.
Schools Offering Accredited Education Programs
<!- mfunc feat_school ->
Recommended Programs for Educators:
Sponsored School(s)
<!- /mfunc feat_school ->