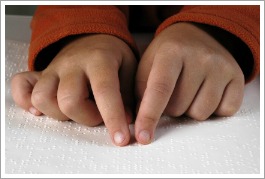 Probably the most famous teacher of the blind and visually impaired is Anne Sullivan. However, something that's lesser known is that Anne herself, at the age of five, suffered from trachoma, leaving her nearly blind. When her mother died, Anne was placed in an orphanage, with virtually no education. However, when the official from the board of charities came to the orphanage, she threw herself on his graces exclaiming, "I want to go to school!"
Anne regained her eyesight after several operations, and graduated as class valedictorian from the Perkins Institute for the Blind in 1886. Her first professional position was the one that made her famous—teaching Helen Keller. Helen was born both blind and deaf and had never heard a sound or said a word. Not only did Helen learn to communicate, but later she attended the Perkins Institute, The Cambridge School for Young Ladies, and Radcliffe College. Anne and Helen became sought-after lecturers, and lived together as best friends for most of their lives.
Anne and Helen's story is just one of many that prove that the visually impaired can live happy and fulfilled lives. Teachers of the blind and visually impaired, such as Anne, are key to these children growing up to have exciting professions, fulfilling social lives, and rewarding family lives.
However, there are some startling statistics that point to a high need in this area. According to the National Federation of the Blind, only 10 percent of blind and visually impaired students are taught Braille—meaning that 90 percent of blind people are illiterate. Only 45 percent possess high school diplomas, and a tragic 70 percent of blind adults are unemployed and living highly limited lives.
The low expectations for blind students, and the misconceptions about the way blind students function at school, are huge factors in blind and visually impaired students not reaching their full potential. Passionate and effective teachers of the blind and visually impaired can change everything.
What is it like to teach the Blind and Visually Impaired?
As a teacher of the blind and visually impaired you might teach in a special school, as Anne Sullivan did. Or, you might find yourself assisting blind students in an integrated mainstream classroom or a special-needs classroom at a public school.
Whether in a blind school or a sighted school, you'll need to be fluent in Braille and in the special needs of visually impaired students. Blind students must have the same information, knowledge, and academic skills that sighted students have. They are required to pass the same courses and the same assessment tests as sighted students.
However, they will have to put forth extra effort, and you'll need to help them become as independent as possible. They'll need to be able to physically navigate the halls, lunchroom, playground and gym. Plus, if they're in a sighted school, they'll also need to navigate the sometimes treacherous landscape of social landmines that come with being even the least bit different from other kids. They will have to learn to read people's body language by sound and energy, rather than by sight.
Famous Blind Professionals
Louis Braille, inventor of the Braille alphabet
Ray Charles, famous singer and songwriter
Ronnie Milsap, country singer
John Milton, English poet and political activist
Marla Runyan, Olympic runner
Erik Weihenmayer, acrobatic skydiver, long distance biker, marathon runner, ice and rock climber, mountaineer, and author of Touch the Top of the World: A Blind Man's Journey to Climb Farther than the Eye Can See
Stevie Wonder, singer and musician
Depending on grade level, you may have to help blind students learn even the most minute tasks of independence, such as tying a knot. Have you considered how much you use your eyes when you tie your shoelaces? Or how often you "look" for something like a lost shoe or misplaced car keys? Or how often you can tell when someone is happy or sad or joking by the expression on his or her face? These are basic life skills that blind kids have to learn to compensate for.
Teachers of the blind or visually impaired also get to help students with various tools, including guide dogs which lead the blind where they want to go, and away from danger. There is also advanced technology available that you'll have to teach students to use. Some of this advanced technology is obvious, such as learning to use a cell phone and a Braille computer. But there are also voice-activated Internet surfing devices, Braille watches, audio electronic books, Braille printers, and music notation programs that allow blind people to compose music, as well as technologies that can be used for recreation or household tasks, like the automatic needle threader that helps those with low vision learn to sew. There are even special tools that will help the visually impaired cook, like the Magna Wonder Knife that cuts uniform slices of bread, Braille marked measuring cups, and a talking microwave oven.
In the public school system, it's unlikely that you'll be assigned to one school. A teacher of the blind and visually impaired is usually employed by the whole district, traveling from school to school. However, the situation depends how many blind and visually impaired students there are at each school. One complaint of these itinerant teachers is that they spend too much of their work day traveling from one school to another. However, most teachers feel that it's worth the extra effort, due to the high rewards they receive as they watch their students make progress.
As a teacher of the blind and visually impaired, you'll also be invaluable in helping mainstream teachers modify lessons for visually impaired students. You must also be prepared to handle students with more than one type of disability or impairment, such as deafness, autism, or cerebral palsy.
The Blind Facts
Someone goes blind every five seconds.
Every minute, a child goes blind.
Blindness is preventable or curable in 80 percent of cases.
3.4 million people are visually impaired in the U.S.
California accounts for 10 percent of all visual impairment and blindness in the U.S.
People with diabetes are 25 times more likely to become blind.
Being a teacher of the blind and visually impaired isn't for everyone. In fact, it can be very frustrating if you're not "called" to the work. Most successful teachers of this subgroup of students report feeling a higher calling to teach those with special needs; those teachers who do not feel this inner pull will likely not enjoy their job as much.
Can I get a job?
Absolutely. There is a shortage of special education teachers everywhere. Teaching the blind takes a significant amount of additional training, beyond that of a typical teacher, thus the supply of teachers is low compared to the demand.
Teach Blind Students, a program of the National Federation of the Blind, is an important resource for teachers who work with the sight impaired. They list job openings on their website; some of them are quite lucrative, even reaching $95,000. Their Teacher of Tomorrow program hosts interactive workshops, pairs new teachers with mentors, gives students hands-on teaching experience, assists with professional development resources, and even helps teacher candidates to attain scholarships. The National Association of Special Education Teachers is another resource that will assist you with teaching resources and job listings.
These resources are in addition to the typical job hunting resources in every state and district. If you put in the training to educate blind and visually impaired students, you are likely going to find a job quickly.
What salary can I expect?
Teachers of the blind and visually impaired can expect to make between $30,000 and $65,000, depending on where they teach. There are more blind students in large cities, so there will likely be more jobs there. However, Title IX legislation requires that every student, regardless of disability, be given equal access to education. This means that even small districts with a low number of blind students will employ educators to assist blind and visually impaired students.
Teachers who have been on the job longer achieve higher pay. Teachers with master's degrees and higher also get boosts in pay for additional training.
How do I become a teacher for the blind and visually impaired?
The National Blindness Professional Certification Board (NBPCB) monitors and provides assistance in teaching accreditation for the blind and visually impaired. The National Orientation and Mobility Certification (NOMC) and the National Certification in Literary Braille (NCLB), are both designed to ensure that teachers are well-qualified. The NCLB test is designed to measure whether a teacher is fluent in the Braille code and is literate enough to teach blind and visually impaired students to read. Studies have shown the blind and visually impaired are as capable as sighted individuals are once they are literate. The NOMC is designed to ensure that teachers are able to help students navigate the world and become as independent as possible.
While every state does not required teachers of the blind to pass the NCLB and NOMC tests, those who do pass the tests and become certified are highly sought-after by employers and make more money. As the tests are gaining popularity in schools, it is highly recommended that you take and pass these standardized tests to prove your competency as a qualified teacher of the sight impaired.
Because there is a nationwide shortage of teachers of the visually impaired, many universities and colleges are offering distance-learning programs. Blind-education programs are much more accessible due to online training, especially since not every university or college has a program for this specialization.
Once you've completed all the coursework and received certifications, you'll need to have on-the-job training as a student teacher being mentored by an experienced teacher. Most people find this training invaluable and learn a great deal about their new profession—things you can't learn from a book. To find out more about how to become certified as a teacher of the blind or visually impaired, explore teaching certification requirements.
Schools Offering Accredited Education Programs
<!- mfunc feat_school ->
Recommended Programs for Educators:
Sponsored School(s)
<!- /mfunc feat_school ->