Dusten Keppner
A real Spanish and Career Technical Education teacher details the challenges of earning a master's degree, as well as the rewarding outcomes.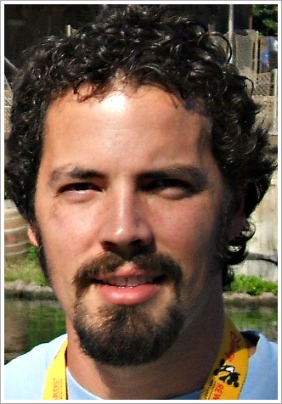 Dusten Keppner held a diverse selection of jobs over the years. From rifle instructor to audio technician, it wasn't until Keppner attended Brigham Young University in 2003 that he discovered his true calling as a teacher.
In college, Keppner focused on languages, eventually earning his teaching certificate in Spanish. Thinking that educating children would provide a rewarding work environment, he eventually went on to teach Spanish and Career Technical Education at Bonneville Junior High in Utah.
After realizing that a bachelor's degree would only take him so far, Keppner decided to look into master's degree programs to advance his career. But with a busy work life, and a wife and three kids, Keppner struggled to find a program that would fit into his schedule.
"My schedule was not very accommodating to a brick and mortar school, so I opted to do it online," he said.
In 2010, Keppner started an online Master of Arts program at Grand Canyon University, taking multiple courses at a time to earn his degree focused in Curriculum Instruction Design: Technology. After completing that first program, Keppner completed a second master's program in Education Administration.
Keppner says that while he initially decided to earn his degrees motivated by potential financial and career benefits, he soon realized the true value of his degree would lie in his improved interactions with students and diversified skill set.
Integrating Technology into the Classroom
Modern technology has given rise to new forms of communication, and interconnectedness that is even affecting the world of education. Teaching websites, forums, and online resources give students the ability…
Read more about integrating technology in the classroom.
"Getting my degrees broadened my view of how to do things in the classroom," Keppner said. "It improved my thought process, and helped me come to the realization that there are endless ways to meet the needs of students."
Many teachers understand that a child's views on education are not only shaped by a teacher, but by the community as a whole. Keppner said that his master's program in Education Administration strongly emphasized this, helping to clarify his views on classroom education. By showing children the real-life applications of what they're learning, and how they affect the community, students become more interested in their work.
"Helping the students relate what we are learning currently in the classroom to their lives and futures helps the classwork make sense," Keppner said. "I shared with my students my personal education and career plan and showed them the reasons behind it, challenging them to consider their own future and their own plans."
While earning his degree opened doors and gave Keppner access to new skills and teaching strategies, it wasn't always easy. Taking classes online requires dedication and self-motivation to finish successfully in a timely manner. Keppner had to balance his family and work life with his educational responsibilities, but came out strong in the end.
"I was able to rise to the challenge and complete both programs with a 4.0," Keppner said. "It came with a lot of sacrifice, but I learned a lot in the process, not only about the program curriculum, but also about myself, my family, and time management."
At Grand Canyon University, Keppner's courses were mostly project-based, consisting of research papers and projects to help incorporate technology in the classroom.
Because the world is increasingly accepting of digital technology, especially in the classroom, Keppner's degree has prepared him well for the future ahead. One of the most important skills Keppner learned in his program was how to construct a website for his class that would serve as a resource for students – a skill he incorporates to this day.
"One of the biggest helps that my Master of Arts in Curriculum Design: Technology classes did was to help me organize and digitize my curriculum and coursework assignments for my Career Technology Education classes," Keppner said. "The assignments for the degree got me started in the process of making my assignments accessible for students through the Internet, and linking them to online resources."
Keppner believes the skills he took from his degree programs have positively impacted his classroom today. Earning a master's degree in both Curriculum Instruction Design: Technology and Education Administration helped to reinvigorate him, motivating him to approach old subjects in a new light.
Keppner says this is especially important today, when many teachers and students face widespread apathy in the world of education.
Many teachers recycle the same old lesson plans every year, growing bored of the material, while also becoming unwilling to change up proven strategies. In Keppner's view, going back to school and becoming a student again revives a teacher's love of learning, improves their preparation, and allows them to see things from a student's point of view again.
"Understanding from the perspective of the student can help in the development of the teacher's classroom management and curriculum development," Keppner said. "For me, completing my degrees was a motivation to improve my classroom preparation and performance for my students, and to help other teachers make improvements."