Masters in Secondary Education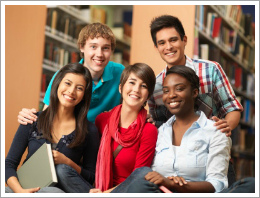 Adolescence is a time of change. Pre-teens and teens undergo not only physical changes, but significant cognitive changes as well. It is such a transitional period in the lives of students, that they need constant attention and guidance. Secondary teachers are some of the most influential people in an adolescent's life.

Find a School
It's no secret that in the United States, education is valued and needed for professional success. According to the National Center for Education Statistics, the dropout rate has declined from 12 percent in 1990 to 7 percent in 2010. This can be attributed to better educational systems and teachers who are better equipped to deal with the challenges adolescents face.
How can a master's in secondary education help me as a teacher?
Teachers must become lifelong learners and lead by example. If we want today's students to be inquisitive and eager to learn, our teachers must show the same eagerness. A master's degree in secondary education gives teachers expanded educational strategies about how to effectively teach adolescent students.
Join a Secondary Education Organization:
Consider some of the following organizations open to Secondary Educators:
Technology has become a fundamental part of our everyday lives, both in and out of the classroom. It is constantly evolving, and teachers must be a part of this progress to effectively educate students. Master's courses in secondary education give teachers the foundation they need to stay up-to-date with technologies used in the classroom. They learn about programs that enhance the educational environment and equip students with the characteristics and skills needed for academic success.
According to the National Institute for Mental Health, adolescents' brains aren't fully developed. Teenagers are not well-equipped to deal with stress, and are often times impulsive. Secondary teachers learn the psychology and physiology of a youth's brain and learning power in graduate level courses. This gives teachers the tools to successfully teach and relate to adolescents in order to improve their overall learning.
Secondary education programs provide teachers with a variety of specialty options. Some of these options include:
Mathematics
Getting a master's degree in secondary education with a specialty in mathematics offers teachers the opportunity to further develop their understanding of teaching mathematics in a secondary school setting. Teachers learn to effectively create and analyze mathematics lessons. To learn more about how a master's degree in mathematics education can help you as a teacher, click here.
English
A master's degree in secondary education with an English specialization is designed for teachers looking to expand their knowledge literature, reading, composition, and technology. This degree gives teachers the opportunity to engage in collegial conversations that ultimately benefit their student's learning. To learn more about how a master's degree in English education can help you as a teacher, click here.
Science
Teachers who want to learn the most innovative technologies and experiments in the secondary science world should get a master's degree in secondary science education. These courses give teachers insight into active research in order to improve the overall classroom experience for students. To learn more about how a master's degree in science education can help you as a teacher, click here.
Social Studies
Attaining a master's degree in secondary social studies education offers teachers the background necessary for educating students on the historical and social foundations of society. Teachers become experts in civics, geography, economics, history, and government. To learn more about how a master's degree in social studies education can help you as a teacher, click here.
Courses taught in Master's in Secondary Education programs:
Adolescent Development and Psychology – This course covers the physical, social, cognitive, and personal development during adolescence. Teachers will learn theoretical issues and methods of studying development.

Related Articles

Using Technology for Instruction and Assessment – This type of class will examine how new technologies can be used in the classroom to improve instruction and assessment. Teachers will learn about current practices used for integrating technology and the valuable uses of technology in the classroom.
Curriculum and Assessment – This course provides students with a look at how curriculum, assessment, and student performance are practiced in a school setting. Teachers learn how to create improve their curriculum and how a student's success is related to assessments.
Special Education and Inclusion – The course addresses the range of learning needs for students and offers teachers the opportunity to develop skills and strategies needed for identifying and instructing students with special needs. Teachers learn to examine their own beliefs and attitudes about teaching children with disabilities.
Teaching Practicum – Practicum is a course that has a pre-determined number of hours of supervised student teaching that need to be completed. Teachers learn first-hand how to implement all of the strategies and skills learned throughout their graduate school coursework.
How will a graduate degree in secondary education help my students?
Today's adolescents need teachers who are willing to go the extra mile and engage students in learning. According to a study conducted by Nobel Prize winning physicist, Carl Weiman, "students learned a lot more from teaching assistants using interactive tools than they did from a veteran professor giving a traditional lecture." Graduate-level classes in secondary education provide teachers with the tools necessary to fully immerse students into a subject.
Graduate school in secondary education focuses on what students learn as the result of effective teaching. Teachers learn to encourage students through interaction, leading to greater student retention and participation in the classroom.
Want to know more?
Pick your state from this map representing Master's in Education programs throughout the country.
Schools Offering Accredited Education Programs
Since 1977, Keiser University has maintained a practical, hands-on approach to career-focused education to help our students achieve their personal and professional goals. Our student-centered approach remains at the foundation of the Keiser University mission and continues to attract students who prefer a more personal learning experience.
Programs:
Master of Science in Education, Teaching and Learning
Pacific Oaks College values the experience students bring with them into the classroom. Our faculty will help you fuse your personal and professional experiences with new theories and concepts in a variety of fields.

Pacific Oaks is a nonprofit, accredited higher education institution offering bachelor's-completion, master's, and certificate programs in human development, counseling, education, early childhood education, and teacher credentialing.

Programs:
M.A. Education with Preliminary Education Specialist Instruction Credential
Preliminary Education Specialist Credential
M.A. Education with Preliminary Multiple Subject Teaching Credential
Learning at Full Sail University has always centered around interaction and the exchange of ideas. Our online curriculum fully embraces this philosophy. We have developed our own online learning environment with the aim of being the most people-focused education experience on the web.
Programs:
Instructional Design & Technology
Saint Leo University is a Catholic, liberal arts-based university serving people of all faiths.
Rooted in the 1,500-year-old Benedictine tradition, the university seeks balanced growth in mind, body, and spirit for all members of its community. At University Campus, at education centers, and through the Center for Online Learning, Saint Leo University offers a practical, effective model for life and leadership in a challenging world; a model based on a steadfast moral consciousness that recognizes the dignity, value, and gifts of all people.
Programs:
MEd: Exceptional Student Education
MS: Instructional Design
Northcentral University was founded in 1996 to provide working professionals around the world with unprecedented access to richly engaging, professionally relevant, and academically-rigorous education from a U.S. university.
As a regionally accredited, private, online and graduate-focused university, NCU offers doctoral, master's and bachelor's degrees in business, technology management, education, and psychology, as well as doctoral and master's degrees in marriage and family therapy.
Programs:
General Education - Master of Education
Master of Science in Educational Psychology
MEd - Reading Education
And more...