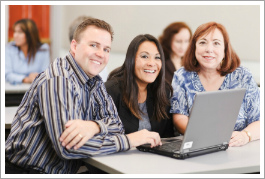 Teachers aren't always the only adults in the classroom.
As businesses demand more from their workers, more adults return to school to expand skills, learn new concepts, and review old ones. Teachers must prepare themselves to meet the needs of an older generation, employing different instructional strategies from those used with younger students.
Master's programs in adult education help teachers, community leaders, and business development professionals gain a greater understanding of the learning needs of adults. By offering coursework in psychology, teaching methods, group management, and human resource development, these programs prepare professionals to build both basic and advanced skills in adults.
How will a graduate degree in adult education help me as a teacher/business leader?
Professionals from a variety of fields choose to earn master's degrees in adult education. Those from the business world enter the program to help build the skills of their current workers, while teachers from universities and community college programs focus on honing their research skills and instructional abilities.
Join a Vast Network of Educators
Consider some of the following organizations open to Adult Educators:
Master's programs help these professionals understand the main differences between learning in adulthood and childhood. Adults bring different experiences and needs to the classroom, meaning teachers must differentiate their teaching practices to effectively reach a wider array of personalities and learning types.
In a master's program, teachers will learn how the adult concept of self is different from children. For example, even as students, adults don't want to be treated as young learners. Teachers must provide a more supportive and yet still independent learning environment for adults. This includes encouraging greater participation from adult students, more questioning, and a higher level of communication between learner and teacher.
Coursework in adult education also emphasizes development in adulthood. Teachers research more of the physiological and psychological changes that take place from youth through older age. This takes into account changing social roles, cognitive adjustments, career aspirations, responsibilities, and freedoms in the context of the classroom.
Because adults have significant life experience, teachers sometimes find themselves at odds with adults who have built up incorrect or outdated attitudes. Teachers with graduate degrees in adult education develop lesson plans that bridge past knowledge with present findings, introducing newer concepts that break down old stereotypes.
Teachers aren't the only individuals who earn master's degrees in adult education. Human resource directors and other business professionals who train workers enter master's programs to gain a better understanding of planning strategies. Courses in human resources give adult educators expanded knowledge on recruitment, selection, and placement of workers to training and development.
Programs in adult education help arm these individuals with greater group management and assessment skills, while also providing training about how adults learn new skills. With a greater understanding of adult psychology and learning, professionals update the abilities of their veteran employees.
Subjects Taught: Adult Education
Adulthood and DevelopmentExamines changes that occur in learning through adulthood. Take a look at the physical, cognitive, emotional, and social differences between how adults and children learn. Consider the importance of independence to adults and how to introduce the concept in the classroom while maintaining order.
Teaching AdultsBuilds upon adult learning theory and helps teachers incorporate theoretical research into their teaching practices. Gives teachers more strategies to encourage active learning and self-directed learning in the classroom.
Human Resource DevelopmentProvides professionals with techniques used in human resources. Includes strategies for training and assessment in the workforce.
Assessment Strategies for AdultsExplore how to assess the learning outcomes of adults in the classroom, and how to adjust teaching to improve outcomes.
Strategies for Adults with DisabilitiesDetermine how to meet the needs of adults living with learning or physical disabilities. Discover more effective methods of ensuring these adults remain productive members of society.
With a graduate degree in adult education, teachers and professionals prepare themselves to take on higher-level positions within their organizations. A greater understanding of how adults learn combined with knowledge of effective training and teaching methods mean company directors and school chancellors typically choose these individuals for leadership positions.
How will a graduate degree in adult education help my students/employees?
As adults return to school to build up new skills, highly qualified teachers must understand the barriers and challenges posed to these individuals. Master's programs in adult education help teachers re-teach subjects areas and concepts that adults may have misunderstood or misinterpreted over time. This means adults are better prepared to approach new subjects with an open mind, solidifying their chances of success.
Human resource directors who have a greater understanding of adult education processes are better prepared to train their current employees about new technologies or business practices. This builds on the skills of their employees, increasing the value of a worker.
Want to know more?
If you're interested in learning more about master's degree programs in adult education, research and contact schools offering programs in the area. Pick your state from this map representing Master's in Education programs throughout the country.
Schools Offering Accredited Education Programs
<!- mfunc feat_school ->
Recommended Programs for Educators:
Sponsored School(s)
<!- /mfunc feat_school ->