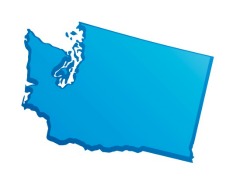 With beautiful cities, great public transportation, a crime rate well below the national average, and no property tax, Washington State is an attractive place to live and work. The climate is mild, too; despite its reputation, the truth is that it rains less in Seattle than it does in New York—or for that matter, in that other Washington (D.C.).
Teachers will probably also like Washington's culture. The city of Seattle, for example, boasts more books per capita than any other city in the nation (and more coffee shops). And Washington is working to become an even more intellectually stimulating place, for both educators and students.
What's the education climate in Washington?
Three major initiatives passed in recent years indicating the state is not satisfied with the historical status quo in education, and is interested in getting away from the more-of-the-same-but-with-more-funding approach to education. Each initiative explores a new way of promoting educational growth and empowerment of teachers, so that educators at all levels can discover and adapt new and effective methods for improving teacher and student achievement.
Average Salaries for Washington Teachers
Elementary School: $59,160
Middle School: $59,800
High School: $60,260
All Washington jobs: $50,280
Source: U.S. Bureau of
Labor Statistics
Two bills passed in 2011 that were devoted to public school innovation. The first, HB 1521, requires the Superintendent of Public Instruction to develop a process to recognize Washington State schools for their academic achievements and innovations, including financial awards and publicly highlighting their achievements. The second bill, HB 1546, established a process for authorizing schools to pursue innovative strategies. Put together, these bills give local schools a greater measure of empowerment in developing programs and curriculum to meet their students' needs, and to recognize their success.
In 2010, the Superintendent of Public Instruction also began recognizing the three best middle and high schools in terms of science, technology, engineering, and mathematics (STEM) instruction. Those schools, in turn, provided best practices to other schools, as well as advice and technical assistance in developing additional STEM programs. In 2012, legislation was passed to expand the recognition program to elementary schools, further encouraging Washington students to develop this high-demand knowledge base and skill set. The state's STEM fund can also receive gifts from private donors, so citizens and businesses are encouraged to continue the development of STEM programs.
In 2012 the state legislature authorized a pilot program enabling colleges and universities to collaborate with local high-risk school districts, in order to create better programs and methods for both student and teacher instruction. The initial program has selected six elementary schools identified as underperforming by state and federal criteria, and which have not received enough funds to implement substantive change. The postsecondary schools involved will seek to adapt research-based methods of classroom instruction and teacher preparation to their partnered elementary schools. If the program demonstrates measurable success, it will be expanded to promote similar improvement in a greater number of schools.
How's the job outlook for Washington teachers?
As the Washington state economy recovers from the national recession, growth in teaching jobs is slightly slower than the average for all jobs in the state. This may also be the result of the slowdown in the state's population growth; the 14.1 percent population increase from 2000 to 2010 was the slowest growth the state had experienced in five decades.
However, the state's growth remains faster than the national average; Washington is now the 13th most populous state in the nation. In addition, the state has seen a marked increase in diversity, including 40 percent increases for those of Hispanic, Asian, and multi-racial backgrounds. Washington schools will therefore be looking for educators capable of meeting the needs of a more diverse student population.
The state also reports teacher shortages in the areas of science, math, and special education. Teachers with these specialties—and the flexibility to work with an increasingly diverse population—will have the best chances of gaining employment in Washington.
What benefits do Washington teachers have?
Washington teachers work between 180 and 190 days out of the year, with 15 weeks of vacation annually. Benefits packages for Washington teachers include health, dental, and vision coverage, as well as disability and life insurance.
Teachers are also enrolled in the Washington State Teachers' Retirement System (TRS), a two-part retirement investment plan. Part One is paid for by the school, and provides a defined pension benefit based upon highest salary and years of experience. Part Two is funded by teacher contributions (with a choice of six options, wherein teachers can contribute five to 15 percent of their salaries each month), and pays out according to the chosen contribution level and investment earnings.
Teacher pay in Washington State goes by an established salary schedule, an increases according to years of teaching experience and educational degree attained. In this way, teachers' pay increases every year, whether or not there have been any "raises" to the entire pay schedule that year.
Several organizations in Washington (see below) are devoted to teacher development, and to providing educational resources to Washington teachers—including substitute teachers. These organizations often publish and discuss research on teaching programs and techniques, and often offer classroom activities or curriculum supplements to improve teachers' classrooms.
What are the credentialing requirements in Washington?
In order to be licensed to teach in Washington, applicants must have completed a teacher preparation from a regionally accredited college or university program at a bachelor's level or higher. Such programs may be complete either in or out of state; though teachers from certain out-of-state programs may be required to complete additional courses. Any teacher preparation program will include a period of student teaching in their endorsement area, which may take as long as an entire semester.
Additionally, applicants must pass the WEST-B skills test (out-of-state applicants may complete either the CBEST or the Praxis I) to demonstrate sufficiency in reading, writing, and mathematics, as well as the WEST-E test specific to their endorsement area.
Residency Teacher Certification is the initial level of certification for Washington teachers, valid for two years and renewable once. During this time, teachers must apply for and pass either the ProTeach Assessment or the National Board for Professional Teaching Standards (NBPTS) Assessment in order to obtain their Professional Teacher Certification. Additional details and information about the certification process can be found at the Washington teaching certification website.