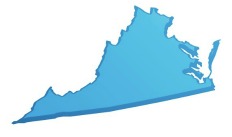 It's hard to resist such a provocative state motto as "Virginia Is for Lovers"—and there's a lot of Virginia to love. The Blue Ridge Mountains provide opportunities to hike and bike; Virginia Beach and the Chesapeake Bay area offer all kinds of seaside fun; while Alexandria is just over the border from the hubbub of Washington D.C., providing plenty of culture, art, and history. There is no lack of sights to see, or things to do, in this lovely state.
Virginia not only entices visitors, but is also actively enticing teachers from other careers, so that students can benefit from their real-world experience. The state is also providing mounds of incentives for new teachers in hard-to-staff schools. Maybe Virginia is for you, too.
Educational Climate in Virginia
Virginia has received exceptionally high performance rankings under the No Child Left Behind Act, with very few of its schools not achieving accreditation. Virginia students also score above the national average in reading and math.
Teaching salaries in Virginia
Virginia teachers, salaries are in the mid-to-upper range compared to the national average. Keep in mind that some areas of Virginia also have a higher cost of living, especially those areas close to Washington, D.C. Below are the median salaries for teachers in Virginia:
Elementary School: $58,980
Middle School: $58,310
High School: $59,900
Source: U.S. Bureau of Labor Statistics
However, the achievement gap—the disparity between the performance of white students versus minority and poverty-stricken students—is something Virginia is proactively addressing. Though the achievement gap in Virginia is smaller than in other states, it is still significant, with the gap in standardized scores ranging from 20 to 28 percent depending on subject area. Therefore, the state is exploring education reforms to close this gap, as well as increase scores in core subjects.
Virginia offers quite a number of incentive programs to attract teachers to high-need schools, and/or to teach high-priority subjects. Virginia Performance-Pay Incentives Initiative offers teachers in 25 high-need schools up to $5,000 each in "exemplary performance" incentives; $3,000 federal School Improvement Grants are also available to teachers at participating schools in Virginia.
The state is also searching for highly qualified science, technology, engineering and math (STEM) teachers—and incentives to bring them into Virginia. Virginia Middle School Teacher Corps (Mathematics) offers financial bonuses to math teachers at high-risk/high-need schools—up to $10,000 for new hires and $5,000 for existing teachers. A $5,000 grant for new STEM teachers was also proposed during the 2012 legislative session by Governor Bob McDonnell.
The state also provides financial inducements for teachers to continue in their professional development, so students will continue to have access to the most effective teachers. For more than a decade, Virginia's Teacher Certification Incentive Reward Program has given awards to teachers obtaining certification from the National Board for Professional Teaching Standards. Teachers who qualify receive bonuses of $5,000, as well as subsequent annual awards of $2,500 for the life of the certificate. The state also offers teacher-mentoring programs and many other professional development programs, to ensure the most successful outcome for students and teachers during a teacher's early years.
Other reforms proposed by Governor McDonnell include additional support and remediation to third- and fourth-graders, while simultaneously restricting automatic promotion for failing students; and tax credits to local businesses that contribute to scholarship funds that would enable low-income students to attend private schools.
Career Outlook in Virginia
Many teachers are nearing retirement age, and there is moderate population growth in Virginia. If economic conditions improve, teachers can expect job growth to increase further. The current projections for job growth among Virginia teachers are as follows:
Elementary School: 3.3 percent
Middle School—3.7 percent
Secondary School– 8.6 percent
Again, Virginia is also making a strong appeal to teachers of science, technology, engineering and math (STEM) subjects. While general job growth for teachers in Virginia is modest, the need for STEM teachers is growing much faster. There are also a variety of federal grant and incentive programs to increase STEM teacher jobs, including 100Kin10. In addition, teachers who are willing to consider high-risk schools not only increase their odds of employment, but likely will also significantly increase their pay.
What are some of the benefits of becoming a teacher in Virginia?
Getting involved in Virginia
There are a number of professional organizations Virginia teachers can join, including:
Virginia legally banned public-sector collective bargaining 20 years ago; thus, its teachers are not represented by an official union in terms of bargaining rights. There are, however, very powerful teacher associations who lobby for teachers' rights, working conditions, benefits, and the best interests of students, including the Virginia Education Association.
In Virginia, teachers are given the same fantastic benefits as other state and local government employees, including access to the Virginia Retirement System. Teachers also receive excellent health benefits, life insurance, dental plans, vision plans, and retirement benefits.
In the absence of a statewide teachers' union, Virginia teachers may find it especially beneficial to join other teaching organizations (see below). These organizations advocate on teachers' issues, to state legislators and lawmakers. They also might provide supplemental insurance, retirement and financial planning, legal services, mentoring arrangements, teaching resources, professional development opportunities, and of course, a sense of community among like-minded professionals.
How do I become a teacher in Virginia?
Potential teachers in Virginia must hold a bachelor's degree or better in the area they want to teach. In addition, teachers must complete a state-approved teacher preparation program. Student teaching and a Praxis or state exam may also be required. Visit teacher-certification.com to find teaching certification programs approved in Virginia, as well as what criteria and courses are required for certification in your specialty.
With today's technology, most coursework can be completed online, which is fantastic for alternative college students who may already have full-time jobs or have small children at home. This allows for more options in terms of geography as well; although a college or university may be hundreds of miles away, you can still earn a degree from the comfort of your own home.
Virginia also has several alternative tracks to certification. These are especially viable if a candidate already holds a bachelor's degree, is converting from a private-industry career to a teaching career and has five years of professional experience, or holds another state's teaching certificate. Visit the Virginia Teaching Certification website to learn more about alternative routes to Virginia state teaching certification.