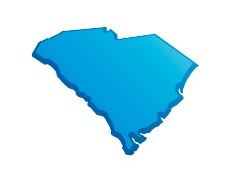 The Palmetto State stands out in the field of education, by many different measures. A rich American history and diverse geography not only provide unique educational experiences, and make the state an enjoyable place to live.
The cost of living in South Carolina is close to six percent below the national average. And with a median teacher salary 151 percent higher than that of the average worker in the state, a teacher will be furnished with a comfortable lifestyle. Teachers can also look forward to a manageable average 15.3 students-per-teacher ratio in the classroom. Certainly, anyone considering the teaching profession should consider South Carolina.
What's the education climate in South Carolina?
The educational climate in South Carolina is stable and firmly established. For instance, the state was ranked number one in the "teaching profession" category in the 2011 "Quality Counts" report released by Education Week, which takes into account such factors as teacher accountability, incentives, and ongoing teacher training.
South Carolina Teacher Salaries
Elementary School:
$48,380
Middle School:
$48,830
High School:
$49,940
Source: U.S. Bureau of Labor Statistics
South Carolina, like many other states, is making subtle to moderate changes in its curriculum. In 2010, the state's department of education formally adopted Common Core State Standards (CCSS). This shift in curricular focus will put South Carolina students on the path toward college and career readiness at the point of their high school graduation.
In 2012, South Carolina filed for a waiver from the No Child Left Behind Act (NCLB). Among the reasons cited were the state's desire to create its own system of accountability, awarding letter grades to schools and districts based on student achievement; increased transparency of student achievement by student subgroups; a move from an all-or-nothing approach to meeting Adequate Yearly Progress (AYP) benchmarks that would give schools and districts credit for progress in student growth; and to establish a new educator evaluation system that includes student growth as a component.
Recent legislation also aims to provide more freedom and power to charter schools. Some particular areas of interest are the establishment of single-gender schools, and the ability for higher-education institutions to sponsor public charter schools. Also, if a student attends a one of these schools in a given district, and the school does not provide a desired extracurricular activity (for instance, an after-school sport), the student may participate in that extracurricular activity at his or her resident public school. These changes point to the state giving more choice and freedom to its citizens in deciding which schools their children attend. This could also mean, depending on demand, more schools being established in the years to come—and thus an increased demand for teachers.
How's the job outlook for South Carolina teachers?
The job outlook for South Carolina teachers is promising. The state has experienced a 14.39 percent growth in population since 2000. As the population grows, a continued increase in students should also be expected—and thus, a corresponding demand for teachers. The U.S. Department of Labor has also forecast an increase in teacher retirements over the next decade, which will lead to more job openings for incoming teachers.
The U.S. Department of Education also reports a shortage of teachers in a variety of subject areas in South Carolina, including English, foreign language, mathematics, science, social studies, and special education. There is also great opportunity for teachers serving those from more diverse backgrounds, through the Call Me MISTER program. This program serves students from underserved, socio-economically disadvantaged and at-risk communities in the state's lowest performing elementary schools.
What benefits do South Carolina teachers have?
Public school teachers in South Carolina receive benefits comparable to most school districts in the U.S. Many of the state's school districts provide affordable health plans for individuals and families. These plans include vision, dental, and a one-time death benefit payment.
Every public school teacher has the opportunity for membership in the South Carolina Education Association (SCEA). The benefits of membership include opportunities for professional development, advocacy with state representatives for issues that interest teachers, many discounts through the members benefit program, and access to a field staff that provides professional support when needed.
What are South Carolina's credentialing requirements?
In order to be certified, South Carolina applicants must hold a bachelor's or master's degree from a state or nationally accredited university. There are three different tests that a certified teacher must pass: the Pre Professional Skills Test (PPST), the Praxis II (subject test in your specialty area) and the Praxis II: PLT (Principles of Learning and Teaching).
There are two main types of credential classification, initial certificate and professional certificate. The initial certificate is valid for three years and certifies that the applicant meets the requirements detailed above. The professional certificate is valid for five years. To qualify for this certificate, applicants must complete the induction program, ancillary requirements, and an evaluation process approved by the state board of education.
For more detailed information on certification requirements and the certification process, visit the South Carolina Teaching Certification website.