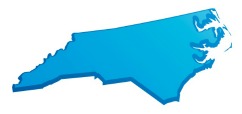 North Carolina boasts a mild climate, a rich cultural history, nationally ranked health care at affordable costs, and a comparatively low cost of living. And because of the variety of social climates that exist in North Carolina as well, the state is seeking to grant more autonomy to local school districts, so students can receive an education appropriate to the area they live in.
Whether you're the type of person who likes to live along the coast, in the mountains, or somewhere in between, North Carolina has a place for you.
What's the education climate in North Carolina?
North Carolina's public education system is changing in response to both national and local economic difficulties, as well as to new directions in political leadership. One goal of the North Carolina legislature is to give more local control to schools, which is important for a state that has different student demographics throughout the state. Along the coast, many students come from immigrant families that speak little to no English, so these schools have different needs (and results) from those schools located in the interior of the state.
Average Salaries for North Carolina Teachers
Elementary School:
$43,420
Middle School:
$42,270
High School:
$45,240
All North Carolina jobs:
$41,250
Source: U.S. Bureau of
Labor Statistics
As federal stimulus money runs out for North Carolina, legislators are busy working out how to maintain North Carolina's education budget, attempting to target funds in ways that will most help the state's students. In managing the limited resources, legislators have made cuts to community college programs, in order to focus specific funds on K-12 education.
In 2012, both the state House and Senate had proposed budgets that included funds for reducing class size in the first through third grades—which would require hiring an additional 1,100 new teachers. Additionally, the Senate has proposed $320 million for teacher raises, and a call for a merit-pay system. Recognizing the debate over how to implement such a system, the budget calls first for $1 million to study performance pay, and various means by which it could be implemented. Instead of the state mandating exactly how teachers are to be evaluated, it calls upon school districts to establish their own methods. Evaluations could involve input from administrators, peers, parents, and students; and different districts could establish criteria appropriate to their particular schools.
Also debated in 2012 was the elimination of North Carolina's tenure system. If such a measure is adopted, more jobs would open up to new teachers, as schools would be freer to release less effective teachers in their schools.
North Carolina has also passed legislation to recognize parents' rights and involvement in their children's education. In 2011 the state required that parents of twins and triplets be allowed to confer with their school about their placement, as to whether they should be in the same or different classrooms. Another 2011 bill provides that no school may use corporal punishment on a student without the parents' permission.
Finally, the state is also using tax credits to encourage corporations in the state to spend more on scholarships to students in private or religious schools. Such private business spending is likely to increase in the next few years, as the legislature seeks to reduce the tax barriers that have driven businesses to neighboring states in the past. Enticing business back to North Carolina means more revenue in the state education budget, as well as more indirect money through the scholarship contributions.
How's the job outlook for North Carolina teachers?
Job opportunities for North Carolina teachers look good. The state's annual job growth rate is projected at 1.6 percent, but for teachers specifically, the growth rate is noticeably higher, projected at 2.5 percent. Elementary school teachers come in even higher than their middle and high school counterparts, with growth in that area projected at 2.7 percent.
Through 2018, high school growth is expected to be a little slower than elementary school growth, but this will vary somewhat between subjects. Currently, North Carolina is experiencing a shortage of middle and high school teachers in the areas of math, science, and special education.
What benefits do North Carolina teachers have?
North Carolina school teachers work an average of 186 days a year, and have two months off in the summer (in addition to two weeks off around Christmastime), earning one sick day every month and two personal days annually, plus two weeks of paid vacation leave each year. Teachers may choose between being paid on either a 10-month or a 12-month schedule. Pay is based upon educational degree and number of years served. After serving for 10 years, teachers start receiving additional "longevity pay" bonuses. Teachers also receive a 12 percent increase in salary for obtaining National Board Certification.
North Carolina teachers are enrolled in the same state health plan that benefits state lawmakers and employees, including state university personnel and hospital staff. For retirement, teachers are covered by the North Carolina Teachers' and State Employees' Retirement System. They contribute six percent of their monthly pay to this system (pre-tax), while their employers contribute an additional 10.51 percent.
The North Carolina school system provides for its new teachers through its three-year Beginning Teacher Support Program. Mentor teachers provide direction, support, and feedback to new teachers, helping them to become established in their classrooms and schools.
Several organizations in North Carolina (see North Carolina Teacher Organizations) are devoted to teacher development, and to providing educational resources to North Carolina teachers. These organizations often publish and discuss research on teaching programs and techniques, and often offer classroom activities or curriculum supplements.
What are the credentialing requirements in North Carolina?
In order to be licensed to teach in North Carolina, you must complete an approved teacher preparation program, including a period of student teaching under the supervision of a master teacher. After successful completion of such a program, applicants must demonstrate expertise in basic teaching skills and their subject matter by passing both the Praxis I and particular Praxis II exam appropriate to their grade or subject.
Teacher licenses come in two steps: the Standard Professional 1 (SP1) license, issued to new teachers and valid for three years; and the Standard Professional2 (SP2) license, obtained after experience and renewed every five years.
Additional information about certification requirements can be found at the North Carolina Teaching Certification website.