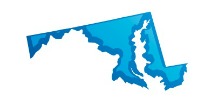 Maryland is one of the smallest states in the nation, but is rich in regional beauty, historical significance, and educational excellence. Five unique areas of the state, from seashore to mountains, offer visitors and residents a myriad of recreational opportunities, including hiking, skiing, fishing, and sailing.
The state is rich in educational excellence as well, and features the top ranked public school system in the country. Maryland also offers some of the highest teacher salaries in the nation, and the opportunity to work in an atmosphere where both teachers and students have the chance to excel.
Educational Climate in Maryland
Innovation. High Standards. World-Class Reform. The title for Maryland's 2012 State of Education report reflects the quality of the state's educational programs and the dedication of the state's educational leaders to pursue excellence in education for their students.
What kind of salary can I earn in Maryland?
Maryland teachers earn some of the highest salaries in the nation based on experience, education, and position. The Bethesda metropolitan area is ranked in the top five in the nation for elementary and middle-school teacher salaries. The following are average salaries for teachers statewide:
Kindergarten School Teacher: $44,200
Elementary School Teacher: $63,650
Middle School Teacher: $67,775
High School Teacher: $65,050
Source: United States Department of Labor
Maryland's public school system was ranked the top public school system in the country for the fourth straight year, according to Education Week's "Quality Counts" report. Also for the fourth straight year, the state has been recognized as the leader in the nation on scores by high school seniors on the College Board Advanced Placement (AP) exams.
The Maryland State Department of Education has been the recipient of two federal Race to the Top (RTTT) grants, and has also recently been awarded a three-year, $1.7 million grant from the U.S. Department of Education to further develop its nationally recognized AP program. This grant will allow the state to expand its efforts to engage low-income students in AP courses and examinations.
Teachers feel positive about the educational climate in Maryland. Eighty-three percent of teachers surveyed in the 2011 TELL Maryland Teacher's Survey reported that they felt their schools were good places to work and learn.
Career Outlook in Maryland
The state of Maryland employed roughly 90,000 teachers in 2008, and has estimated that it will need an additional 35,000 teachers by 2018. The highest needs for new teachers will be at the elementary and high school levels; most of these openings will be replacement positions.
Job opportunities for teachers in the state look promising, since Maryland needs more teachers than it is currently able to produce; only about a third of all Maryland teachers graduate from Maryland colleges and universities. The state identifies current and future shortage areas for teachers in technology education, computer science, English for speakers of other languages, foreign languages, mathematics, science, and special education.
What are some of the benefits of becoming a teacher in Maryland?
Getting Involved in Maryland
There are several teacher organizations specific to Maryland teachers, including:
Maryland offers teachers competitive salaries and comprehensive benefits. Most districts provide comprehensive health care, dental, and vision plans, as well as other benefits. For example, the Baltimore public school system also offers teachers prescription drug plans, life insurance, tuition reimbursement, and the opportunity for student loan repayment for those who qualify.
A mandatory pension plan, operated by the Maryland State Retirement and Pension System, offers teachers three different options for contributory or non-contributory retirement plans. Teachers are eligible for full retirement at age 60, or at any age after 30 years of service. Early retirement is also an option for teachers with 25 years' experience, prior to the age of 60.
Maryland has a dynamic teacher organization, The Maryland State Education Association (MSEA), which advocates for teacher benefits and salaries, increased school funding, smaller class sizes, and other local and national education initiatives. The MSEA also offers member discounts for loans, insurance, and various products and services. In addition, the organization keeps members informed of professional development opportunities and legislative issues related to education. A professional development and organizational guide, along with training on public education issues, are available for career enhancement.
How do I become a teacher in Maryland?
The public school teacher Professional Eligibility Certificate (PEC) is awarded by the Maryland State Department of Education in six teaching areas: Early Childhood Education, Elementary Education, Middle School, Secondary, Special Education, and Specialty Areas (inlcuding art, music, or physical education). Each area has specific educational requirements and you will be eligible for the PEC if you earn a bachelor's degree or higher through an approved, or non-approved in-state, out of state, or online school as long as you meet the established coursework, experience, and testing requirements for your area of practice.
Examinations demonstrating the candidate's proficiency in math reading, writing, and comprehension are required to qualify for the PEC. These include the Praxis I, SAT, GRE, or ACT.
The Maryland State Department of Education also has two non-traditional certification programs, Troops to Teachers and the Resident Teacher program.
For more information on teacher certification in Maryland, in addition to links and advice regarding documents, the process, and contact information, visit Maryland teaching certification website.