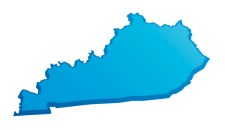 With the beautiful forested Appalachian mountains, more miles of running water than any other state except Alaska, beautiful fields of bluegrass (not to mention folksy bluegrass music), Kentucky is a fine place to visit—and a great place to live. The state is ideal for anybody who either wants to live in the countryside (but not too far away from they city), or in the city (but not too far away from the countryside).
Whatever your preference, Kentucky is also a good place to teach, with the rural schools getting just as much support as the city schools. Today, whether a school is located in a poorer community or a richer one, it does not matter—state funds for education are distributed equitably between school districts, ensuring that children in poorer neighborhoods have access to well-funded schools, with adequate—and competitive—technology and facilities for all their needs.
What's the education climate in Kentucky?
The state's Support Education Excellence in Kentucky (SEEK) fund paid nearly $3 billion to Kentucky public schools in fiscal year 2012. Despite the nation's economic woes Kentucky has managed to keep spending per pupil up, with a little help from federal EduJobs dollars allocated toward addressing a "good problem"—increased school attendance. Not only did the state see an increase of 3,000 new students, but average daily attendance figures increased by an additional 7,000 beyond that. This increase will likely produce even further growth in educational investment in Kentucky.
Average Salaries for Kentucky Teachers
Elementary School:
$50,660
Middle School
$49,660
High School
$50,680
All Kentucky jobs:
$38,640
Source: U.S. Bureau of
Labor Statistics
Kentucky is making several changes to its educational system. The Kentucky Department of Education (KDE) is developing a new set of standards regarding career and technical education, as well as courses dedicated to career and college readiness. KDE is also expanding summer learning programs in schools, reporting on the most successful programs to share best practices with the rest of the state.
In an effort to develop better teaching methods, Kentucky passed its "Districts of Innovation" initiative in 2012. This bill grants several Kentucky school districts more freedom in developing curriculum and methods, exempting them from particular statewide standards so they can try multiple ideas. As a result of this bill, there should be less of a demand for charter schools, since public schools will have the means to adapt to the community and student needs that charter schools are usually established to meet.
The Kentucky legislature adopted three other new resolutions affecting public education in 2012. The first measure advocates more outdoor activities as part of childhood development, recognizing these activities as an integral part of balanced learning. The second created a task force to study middle school interscholastic athletics. Finally, the state established a task force to study the Unified Juvenile Code, and to examine different alternatives in responding to juvenile-status offenders (including both educational and legal alternatives).
Kentucky has also debated raising the legal dropout age for public schools from 16 to 18. As of May 2012, different versions of the bill have passed in the state's House and Senate. The Senate's bill allowed school districts to opt in to the new requirement, instead of forcing it. Although the two houses have not agreed on a bill yet, it is clearly an important issue within the state—similar bills have been proposed for three consecutive years.
How's the job outlook for Kentucky teachers?
Graduates of Kentucky teaching programs can look forward to a good market. Kentucky has more than 2,000 openings for new teachers every year, to replace retiring teachers and add new ones to keep up with growth in school enrollment. New teacher openings account for about one in every 30 job openings in the state.
Currently, Kentucky schools have a greater need for qualified middle and high school teachers, particularly for math, language arts, and high school sciences. Meanwhile, public schools in Kentucky have a higher percentage of administrators than most other states, so opportunities in education besides classroom teaching abound.
What benefits do Kentucky teachers have?
Kentucky teachers work between 180 and 190 days a year, getting about 15 weeks of vacation time. Additionally, teachers earn 10 days of sick leave every year, and another three days of personal/emergency leave.
Educators also participate in the statewide Kentucky Employees Health Plan (KEHP), and may sign up members of their family to the same plan with an additional payroll deduction. Additionally, Kentucky teachers are enrolled in the state's retirement plan. Kentucky teachers may retire at the age of 60 after five years of service, or at any age with 27 years of service—meaning that Kentucky has one of the lowest retirement ages in the nation, while still receiving full benefits.
Several organizations in Kentucky are devoted to teacher development, and to providing educational resources to Kentucky teachers. These organizations often publish and discuss research on teaching programs and techniques, and often offer classroom activities or curriculum supplements to improve classroom teaching.
What are the credentialing requirements in Kentucky?
Becoming a licensed teacher in Kentucky requires at least a Bachelor's Degree (with a minimum GPA of 2.5) and successful completion of an approved teacher preparation program. Such programs include Elementary Education (K-5th grade), Middle School Education (5th-9th grades), Secondary Education (8th-12th grades), and Exceptional Children's Education (all grades). Additionally, Kentucky recognizes credentials obtained from regionally accredited colleges and universities in other states.
Teacher preparation programs include a period of supervised student teaching. The superintendent of your district must document this experience and sign your application for a credential. Additionally, after completion of the teacher preparation program, teaching applicants must demonstrate expertise of their subject matter by passing the Praxis II exam appropriate to their subject. Additional information on these and other certification matters can be found at the Kentucky Teaching Certification website.