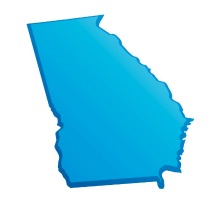 The Peach State is a beautiful place to live, rich in culture and history. Whatever your geographical or topological preference, there is plenty of variety in landscape, from the large stretch of coastline in the southeast to the forest and mountain areas inland. And there's plenty of Southern hospitality toward visitors and neighbors alike.
Many areas in Georgia have a higher standard of living than the national average, made possible by below-average housing costs and a lower cost of living than many other states. As an added bonus, state taxes are lower than the national average. This makes the state of Georgia an attractive place for teachers to start, and continue, their careers.
Educational Climate in Georgia
Georgia, as a whole, has made notable improvements in early childhood education programs, math performance of eighth-graders, high-school graduation rate, the numbers of bachelor's degrees awarded, and the number of students earning Advanced Placement (AP) college credit courses in high school. Because of the success of educational reforms that have already been made by the state, Georgia was awarded a $400 million federal Race to the Top grant in 2010.
What kind of salary can I earn in Georgia?
According to the Georgia Department of Education, the average salary for teachers in Georgia is between $52,000 and $53,000, better than the average teaching salary in many other states. The average starting salary for a teacher in Georgia is about $39,000.
Also, you may be able to afford more on your teacher salary in Georgia. The cost of living in most of the state is fairly low, compared to most other areas of the U.S.—making it a great place to stretch your dollar a little further.
Two of Georgia's main areas of focus are on reforming teacher evaluations, and training all teachers in new Common Core math and reading methods. Also, during its 2012 session, Georgia lawmakers stated that their priority is to educate their students so they're able to become the type of workers that companies of the 21st century need. During this legislative session, charter schools were supported, and teacher employment policy was changed so that employment relies more on ability than seniority. The state also adopted a new scoring system for elementary, middle, and high schools, providing greater accountability to taxpayers, citizens, and students.
For detailed and frequently updated news about the climate of education in Georgia, the Georgia Partnership for Excellence is an excellent source. The Southern Regional Education Board also tracks changes in legislation, trends in education, performance statistics, and provides resources in support of education in Georgia and 15 other southern states.
Schools in Georgia rank about average on standardized test scores. However, Georgia's schools have been rebounding in recent years. And according to some school officials, lower test scores don't properly reflect on the effort and caring that Georgia teachers give to their students.
Career Outlook in Georgia
Georgia is in need of teachers in several subject concentrations, including mathematics, life sciences, Spanish, physical sciences, and some special education areas. If you have a certification in any of those areas, you'll have an easier time finding a teaching job in the state of Georgia.
Also, the state offers a cash incentive program to attract highly qualified math and science teachers, and to encourage current math and science teachers to seek a Georgia Professional Standards Commission in those fields. Teachers taking advantage of this program can earn as much as $6,500 in additional annual incentives.
There are also job vacancies and openings in all areas of education due to teachers consistently retiring, moving on to other professions, or leaving the state. However, some schools have cut back on new teaching positions, and have even cut teaching staff, in recent years. Budget cuts in education have hit Georgia hard, along with the rest of the United States.
What are some of the benefits of becoming a teacher in Georgia?
In addition to competitive salaries, Georgia teachers also receive a host of employee benefits. From health insurance to retirement plans, teachers who perform to the best of their abilities are well supported.
Health care plans are available to teachers in most school districts, including dental, emergency care, prescription drug plans, and some school districts also include eye care coverage.
When they reach retirement age, Georgia teachers usually enter into the Teacher Retirement System of Georgia. To receive 100 percent of their pension, teachers in Georgia must complete 30 years of creditable service regardless of age, or complete 10 years of creditable service and be 60 or older.
Teachers may receive additional benefits by joining the various teaching organizations available in Georgia. These organizations can help you network with other teachers, learn more about your area of concentration, and stay abreast of new resources and teaching methodologies.
How do I become a teacher in Georgia?
Teachers seeking employment in the state of Georgia must first obtain a bachelor's degree and complete a teacher preparation program. Before a potential teacher can be hired in Georgia, he or she must first earn Georgia teacher certification. The Georgia Professional Standards Commission (GaPSC) requires teachers to pass the Georgia Assessments for the Certification of Educators (GACE), to show that they're well-prepared to meet state standards and reviews.
Teacher preparation programs are offered by various institutions in Georgia. Teach for America also has an Atlanta presence, and can serve as a resource for alternative certification.
For more information on teacher certification, in addition to links and advice regarding documents, the certification process, approved teacher preparation programs, and contact information, visit teaching-certification.com.