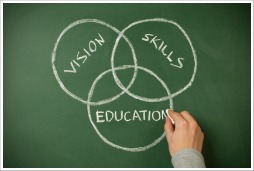 In today's world, it simply isn't enough to just earn a bachelor's degree and expect to make a real difference in the lives of your students.
For many teachers, making this difference is the true benefit of teaching – the feelings of self-satisfaction as you watch your students grow and succeed thanks to your hard work and dedication in the field.
Researchers constantly discover new ways of integrating academic theory and teaching, meaning teachers must gain new skills to best impact their students. Because of this, many teachers choose to return to school and obtain master's degrees – degrees that allow them to hone their abilities and become expert educators.
Teachers who earn their advanced degrees show a deep level of understanding and commitment to the profession, allowing them to modify curriculum goals, adjust teaching methods, and enter leadership positions to enact the system-wide changes in education they wish to see.
Read on to find how beneficial it is to use advanced teaching practices, watch students succeed, and discover how their successes lead to rewarding career opportunities.
Greater understanding leads to better teaching practices
Passionate teachers understand that perhaps the greatest benefit of earning a master's degree is the large number of additional skills they acquire, allowing them to stand out as leaders in the classroom.
Average salaries for teachers
Earning a master's degree often results in an automatic pay raise for teachers. According to the U.S. Bureau of Labor Statistics, teachers can expect the following salaries:
Elementary school teacher – no master's degree: $51,660
Elementary school teacher – master's degree: $58,992
Secondary school teacher – no master's degree: $53,230
Secondary School teacher – master's degree: $60,682
Source: BLS, Occupational Outlook Handbook
Bachelor's degree programs simply don't give teachers enough background knowledge and comprehension of how theory integrates into and strengthens teaching practices. These teachers lack the strong critical thinking skills imparted by advanced degree programs, leading to more teaching "by the book," and less tailored to individual student needs.
Advanced degree programs give teachers insight into the theoretical and practical backgrounds that drive their professions, learning how knowledge of education theory positively impacts their teaching practices. By applying theory to teaching methods, teachers gain the benefit of seeing their students excel in the classroom.
For example, the educational theories of philosopher Jean Piaget stress the importance of unique, individual learning. Piaget understood that if a teacher was instructing a science lesson to six students, those students would learn in six different ways. According to Piaget, teachers must assess their instructional methods to discover ways to improve student outcomes.
Without an understanding of how to apply Piaget's theories to their classrooms, many teachers struggle to adjust lesson plans based on a student's learning needs, or don't even consider the fact that they may need to make these adjustments. Master's programs stress the importance of individual learning and assessment, allowing a teacher to become more fluid in his or her teaching practices.
For instance, one teacher interviewed by Masters-Education.com noted that earning a master's in curriculum, instruction, and assessment completely altered his mindset on teaching.
Before earning his degree, Michael Grether (see Michael Grether's profile) wanted to accomplish more in his courses. Following the strategies imparted by his bachelor's education, he taught his students by the book, but was dismayed to see many fall behind. Deciding that he needed the background, knowledge base, and skill set only found in master's programs, Grether chose to go back to school.
In his curriculum, instruction, and assessment courses, Grether learned how to assess his teaching practices, make adjustments, and ensure each student learned the material. Now, Grether uses many of the concepts once lauded by Piaget in his everyday teaching practices.
Each week Grether charts out the individual learning needs and styles of his students, allowing him to personalize courses lesson plans, and attend to unique student concerns. Grether described the benefits of his master's education as "jumping from the minor leagues to the major leagues," in terms of his teaching ability, and level of student achievement he saw.
Using skills he learned in his master's program, Grether's improved teaching abilities led to greater student success, further cementing his belief in the intrinsic benefits of a master's degree. While some professionals question the effectiveness of master's education, studies have shown positive outcomes for students trained by master's-holding teachers.
According to "Master's Degrees and Teacher Effectiveness: New Evidence From State Assessments," conducted by Arroyo Research Services, teachers who earn master's degrees demonstrate greater teaching effectiveness than those who don't.
The study found that students whose teachers held a master's degree performed better in reading and writing tests. Researchers examined over 4,000 teachers and 205,000 students, discovering that knowledge gained in a master's program does, in fact, lead to improved student outcomes.
Teachers who used individual reading strategies (often by implementing the same assessment skills described earlier) found their students more motivated to approach course material positively. Even for students who had histories of reading and writing problems, teachers with master's degrees could individually classify and tweak lesson plans to reach them.
As schools recognize the intrinsic benefits a master's degree has for teachers, they reward teachers who obtain advanced degrees with better pay and opportunities for leadership.
Better pay, better opportunities for leadership
Even beyond watching your students succeed, perhaps the most tangible benefit of earning a master's degree is the higher pay and career growth opportunities.
Maybe you can take the vacation you've always wanted, or maybe you can finally afford that next big purchase. Whatever your desire, this increase in pay is much sought after in a time where many school budgets prevent other teachers from obtaining raises.
Typically, after a teacher earns his or her master's degree, schools will offer between a 5% and 14% pay increase, depending on the state and school district.
This pay increase reflects the higher value of the teacher. School districts recognize the time and effort teachers spend in graduate school, and want these individuals to stay in the district to help direct future growth of a school. Master's degree holders are the best chance schools have to enact positive curriculum-wide changes and improve student outcomes.
As an added benefit of earning a master's degree, you gain a bigger voice in the national conversation on education. As educators further develop their understanding of teaching techniques, classroom management strategies, and professional resources, they become more valuable members of the educational community.
Unfortunately, in today's educational and political climate, legislators, politicians, and other individuals with no educational experience wish to enact changes to schools that may be destructive to a student's future. For many teachers who entered the career to make an impression in the lives of their students, this should be deeply worrying.
Schools want master's holders to enter leadership positions in the educational community to help defend research-backed teaching practices. For the passionate teacher who entered the profession to make an impact, leading school-wide change is by far the greatest benefit of a master's education. By assuming administrative roles in their schools, master's degree holders pull from a wealth of teaching knowledge that will help change the educational landscape for the better.
Obtaining a master's degree opens doors for career growth. Some of the typical positions offered to these individuals include:
Assistant Principal
Principal
Department Head
Superintendent
Teacher Leader
Without the knowledge base imparted by advanced teaching programs, individuals are unequipped to enter these roles. It would be like going from a county commissioner to becoming the president – just unimaginable.
Administrators use their previous teaching experience, educational background, and skills gained in their master's programs to enforce positive changes in their schools. By enacting school-wide changes, these individuals truly see how their master's program has benefited not only them, but the educational outcomes of thousands of students.
A deeper respect in the school and community
The educational community needs more teachers with advanced degrees to advocate for tried and true teaching practices backed with research. As these individuals re-enter the educational environment, they see the true benefits of their degrees – furthering their understanding of teaching, seeing their students succeed, and assuming leadership roles.
Master's degree holders are best equipped to change the community for the positive. If you're interested in learning more about how earning a master's degree affects the community as a whole, click here.