Masters in Special Education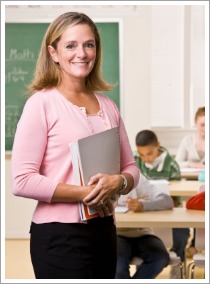 Albert Einstein once said, "Everybody is a genius. But if you judge a fish by its ability to climb a tree, it will live its whole life believing it is stupid." No child learns in the same way or at the same pace.

Find a School
Karen reads at an eighth grade level, but has trouble with fourth grade math problems. Joey is one of the top athletes in his class, but can't concentrate long enough to get his schoolwork finished. Emily is first chair flute in the school band, but has trouble reading through her history textbook.
Special education teachers recognize that each child is different, and have the skills necessary to help each individual child develop and grow. Through a master's program in special education, teachers learn to identify disabilities and design instruction to ensure each child can achieve their expected educational goals.
How can a master's in special education help me as a teacher?
Graduate classes in special education prepare teachers to work with students with learning disabilities, behavioral disabilities, and mental retardation. They learn the most current and effective teaching methods, and the impact they can have on students and learning.
Organizations for Special Educators
The following organizations give teachers additional resources and insight into special education for further professional development.
Many classes focus on the digital tools available for special education teachers. These allow teachers to identify disabilities easily, implement a learning plan, and also track the progress of each individual student. For example, coursework might help inform teachers how to integrate tools like the Intervention Planner for Behavior into the classroom. Using digital tools, teachers can browse different intervention techniques, record notes, and download customized intervention plans.
One of the main focuses of a master's in special education program is the strategies and interventions needed to help children learn. Special education teachers learn how every student is different and not every child learns and the same speed. Graduate classes give teachers the tools they need to identify learning disabilities and the strategies used to educate each child. Understanding how to teach subjects in different ways for different students is necessary for educators seeking to improve the learning outcomes of their students.
Special education teachers must understand the importance of working one-on-one or in small groups with children with disabilities. Students with special needs can't always learn in large classroom settings, so teachers must understand methods of individualized instruction.
Earning a master's degree in special education also provides teachers the opportunity to network with people in their area or in special education. A graduate degree gives teachers more resources and professional connections to collaborate within their field.
Courses taught in Master's in Special Education programs
Special Education Assessment, Interpretation and Planning

This type of class focuses on the selection and administration of special education testing, as well as formal testing tools available. Teachers will learn how to plan interventions and lesson plans for different disabilities.

Related Information

Characteristics of Learning Disabilities

This class is a comprehensive overview of all learning disabilities that special education teachers encounter. Teachers learn what to look for and the challenges these students face.
Inclusion Strategies for Special Educators

These strategies show teachers how to incorporate every special needs child into a regular classroom. Teachers learn how to help students communicate and integrate into a traditional classroom environment.
Cognitive Learning and Behavior

Classes will review cognitive learning and behavior theories. Teachers learn what stepping stones children should be achieving in order to recognize children who are behind.
Supervised Practice

These courses give teachers the chance to practice all of the skills they learned in their graduate course in a supervised capacity.
How will a graduate degree in special education help my students?
Learning the cognitive processes that students with disabilities experience while trying to learn allows teachers to not only learn how to educate them, but to be more empathetic. Special education teachers should be able to see the potential in every child. Graduate school allows teachers to have a complete understanding of each disability, and therefore have the patience and understanding to provide the best possible education.
There's a famous quote throughout the education world by George Evans, who said, "Every child can learn. Just not on the same day or in the same way." It's not that students don't want to learn, they are just not being taught in a way that they can learn. A graduate degree in special education gives teachers the resources to educate all students in a variety of ways.
For example, some children learn by reading or doing or a combination of both. If a classroom is set up as a lecture and the teacher says, "now do it," a kinesthetic learner who needs a hands-on approach will have problems learning. Graduate-level classes in special education give teachers the resources they need to teach in a multitude of ways so each child is learning effectively.
Want to know more?
To learn more about what programs are offered in your state, click here.
Schools Offering Accredited Education Programs
Northcentral University was founded in 1996 to provide working professionals around the world with unprecedented access to richly engaging, professionally relevant, and academically-rigorous education from a U.S. university.
As a regionally accredited, private, online and graduate-focused university, NCU offers doctoral, master's and bachelor's degrees in business, technology management, education, and psychology, as well as doctoral and master's degrees in marriage and family therapy.
Programs:
Special Education - Master of Education
General Education - Master of Education
MEd - Reading Education
And more...
Since 1977, Keiser University has maintained a practical, hands-on approach to career-focused education to help our students achieve their personal and professional goals. Our student-centered approach remains at the foundation of the Keiser University mission and continues to attract students who prefer a more personal learning experience.
Programs:
Master of Science in Education, Teaching and Learning
Pacific Oaks College values the experience students bring with them into the classroom. Our faculty will help you fuse your personal and professional experiences with new theories and concepts in a variety of fields.

Pacific Oaks is a nonprofit, accredited higher education institution offering bachelor's-completion, master's, and certificate programs in human development, counseling, education, early childhood education, and teacher credentialing.

Programs:
M.A. Education with Preliminary Education Specialist Instruction Credential
Preliminary Education Specialist Credential
M.A. Education with Preliminary Multiple Subject Teaching Credential
And more...
Learning at Full Sail University has always centered around interaction and the exchange of ideas. Our online curriculum fully embraces this philosophy. We have developed our own online learning environment with the aim of being the most people-focused education experience on the web.
Programs:
Instructional Design & Technology
Saint Leo University is a Catholic, liberal arts-based university serving people of all faiths.
Rooted in the 1,500-year-old Benedictine tradition, the university seeks balanced growth in mind, body, and spirit for all members of its community. At University Campus, at education centers, and through the Center for Online Learning, Saint Leo University offers a practical, effective model for life and leadership in a challenging world; a model based on a steadfast moral consciousness that recognizes the dignity, value, and gifts of all people.
Programs:
MEd: Exceptional Student Education
MS: Instructional Design