Masters in School Leadership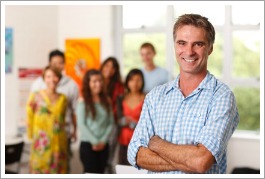 Being a leader means having the passion and integrity to influence others, lay the foundation for change, and accomplish related goals. Administrators and principals have the unique opportunity to become leaders of our country's youth and as such, are some of the most significant and influential leaders today.

Find a School
According to the Bureau of Labor Statistics, there were 445,400 education administrator jobs in 2008. That number is expected to grow by almost 8% by the year 2018. This projected growth is primarily the result of more children enrolling in school, and the greater administrative responsibilities being placed on schools.
As the need for more school administrators grows, so do their duties and responsibilities. Administrators need a wide variety of skills and knowledge to continuously improve their schools and their students' learning outcomes. To ensure success at their schools, administrators gain expertise in management and organizational development by earning master's degrees in school leadership.
How can a master's program in school leadership help me as an administrator?
The main goal of any school administrator is to establish standard policies and educational goals, while creating a safe and supportive learning environment. Master's programs in school leadership help educators expand their knowledge of disciplinary policy, curriculum design, and organizational development needed to achieve that goal.
Join a School Leadership Organization
Consider some of the following organizations open to Administrators:
Future administrators learn the best strategies for teaching reading, writing, math, and other core subjects in graduate school classes. This allows them to set the academic tone for their school by recognizing what students need to learn, and how best to implement effective teaching methods in the classroom.
School administrators must stay up-to-date on current practices in education. Graduate school gives potential administrators resources and information on the latest technologies and strategies used for effective instruction. This technology not only benefits student learning, but professional growth for teachers as well.
As leaders, administrators guide teachers and set examples for students to follow. Courses in graduate school are designed to give new administrators the tools needed to lead teachers toward valuable educational practices, so both teachers and students benefit.
Graduate school teaches administrators how to manage effective community and administrative relationships. This allows administrators to practice useful communication with staff and parents, and get the community involved for the purpose of improving the overall quality of the school.
Courses taught in Master's in Education Leadership programs
Foundations in Educational Leadership – These classes are designed to introduce teachers to the theories and practices of school leadership. Administrators learn to develop a deep understanding of the challenges faced by modern educational leaders.

Related Articles

School Law – This course is an overview of the legal aspects included in education and school, state, and federal regulations. Administrators learn about the history and recent developments in education law.
Change and Innovations in Education – The focus of this class is on the skills and processes needed for planned change in education. Administrators develop an understanding of practical change and planning, the factors that affect change, and educational program innovations.
Supervision and Leadership – This type of class focuses on effective communication, encouraging high levels of education, and creating a safe and supportive learning environment. Administrators learn all aspects of managing and supervising staff and students.
Field-based Internship – This is generally a school-based internship designed for administrators to practice school leadership and management duties. Administrators will be assigned a mentor or adviser.
How will a graduate degree in school leadership help my students?
School leadership courses offer many opportunities for administrators learn how to become effective advocates for students. It is the principal's responsibility to make sure that every student in his or her school is receiving the independent help that is necessary for success.
As the leader, it is important for administrators to make sure that all teachers stay current on common learning disabilities and the latest teaching strategies. If a student is struggling in a certain area, principals must ensure resources are available for that student.
Teachers also need to understand and administer assessments, and that starts with the administration. It is the principal's responsibility to ensure teachers are effectively teaching certain benchmarks needed for every student to succeed.
For example, if teachers are teaching vocabulary, they need to know the best instructional practices for vocabulary. This ensures each and every student is reaching his or her goal. If the majority of the students aren't learning vocabulary, the fault ultimately lies with the administration.
Learn More
If you're interested in learning more, research schools offering master's degree programs in School Leadership.
Schools Offering Accredited Education Programs
Northcentral University was founded in 1996 to provide working professionals around the world with unprecedented access to richly engaging, professionally relevant, and academically-rigorous education from a U.S. university.
As a regionally accredited, private, online and graduate-focused university, NCU offers doctoral, master's and bachelor's degrees in business, technology management, education, and psychology, as well as doctoral and master's degrees in marriage and family therapy.
Programs:
Instructional Leadership - Master of Education
Organizational Leadership - Master of Education
Leadership in Higher Education - Master of Education
And more...
Since 1977, Keiser University has maintained a practical, hands-on approach to career-focused education to help our students achieve their personal and professional goals. Our student-centered approach remains at the foundation of the Keiser University mission and continues to attract students who prefer a more personal learning experience.
Programs:
Master of Science in Organizational Leadership
Master of Science in Education, Career College Administration
Choose from dozens of in-demand degrees. With more than 40 online bachelor, master and doctorate degree programs to choose from, CBU Online gives you plenty of options to consider.
CBU Online was designed for the working professional. Whether you are looking to advance your current career or start the new career path of your dreams. Flexibility means you can earn your degree while working full or part-time. CBU Online is transfer friendly. CBU Online is perfect for those who have families as well.
California Baptist University (CBU), which includes all programs offered by the Division of Online and Professional Studies, is accredited by the Western Association of Schools and Colleges Senior College and University Commission (WSCUC). Many prospective students are uncertain about which college degrees employers or universities will accept. This regional accreditation by WSCUC means you can be confident that your CBU degree is recognized and respected by schools and companies across the country.
Programs:
Master of Science in Education: Specialization in Educational Leadership
Saint Leo University is a Catholic, liberal arts-based university serving people of all faiths.
Rooted in the 1,500-year-old Benedictine tradition, the university seeks balanced growth in mind, body, and spirit for all members of its community. At University Campus, at education centers, and through the Center for Online Learning, Saint Leo University offers a practical, effective model for life and leadership in a challenging world; a model based on a steadfast moral consciousness that recognizes the dignity, value, and gifts of all people.
Programs:
MEd: Instructional Leadership
Education Specialist in Educational Leadership
MEd: Educational Leadership
And more...
The path to a brighter future isn't always clear. We face roadblocks and detours. Sometimes, we make a wrong turn and get lost. No matter where you are in your journey, Baker College can help you move forward to a rewarding career.
At Baker College, we know the importance of a quality education. We are regionally accredited with award-winning faculty. We will be there every step of the way so you can get where you're going.
Programs:
Educational Leadership: K-12