Masters in Reading and Literacy Education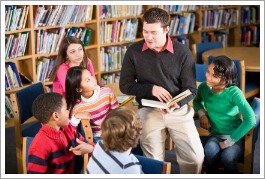 Without strong reading and writing skills, a student's potential is seriously crippled across multiple content areas. Whether a student is solving a word problem in math class, researching primary sources in social studies, or crafting a lab report in science, the ability to read and write well is required to excel in school and life.

Find a School
Strong literacy skills must develop over time with the assistance of effective teachers who are knowledgeable about the challenges and difficulties of learning how to read and write. Reading and literacy programs focus specifically on providing teachers with a set of tools to meet the needs of diverse learners in the classroom.
How will a graduate degree in reading and literacy help me as a teacher?
Master's degree programs in reading and literacy emphasize personalized learning in the classroom. Students learning to read and write develop those skills at varied paces, but you as a teacher need to ensure each student reaches the same goal.
Join a vast network of educators
Consider some of the following organizations open to Reading and Literacy Teachers:
To guarantee students reach their goals, teachers in graduate programs research advanced literacy strategies and the cognitive process to envision each student as an individual learner and provide differentiated instruction. Research into cognition allows teachers to take into account a student's learning patterns, interests, and challenges to learning.
Because reading and literacy skills are highly related to a student's developmental level, master's programs also focus on giving teachers advanced research in developmental psychology. This includes coursework examining how English language learners and special education students can quicken their language acquisition rate, and different ways to approach the teaching of these students.
Identifying the challenges and learning patterns of students is only half the battle for literacy specialists. Teachers in master's programs also explore the foundations of literacy and emerging discoveries in its instruction.
For example, studies in literacy and reading emphasize the need to use data to inform teaching practices. Teachers learn how to use data from the classroom to determine the best teaching methods for struggling readers and writers. This allows them to assess student learning patterns and determine the best solutions.
Subjects Taught: Master's in Reading and Literacy Programs
Methods of Writing Instruction

Explore the best ways of teaching writing to your students by examining writing styles, common barriers to learning, and how to best break down those barriers.

Related Articles

Developing Fluent Readers

Examine language acquisition and how students evolve from beginning readers to more advanced readers. Look at how cognitive processes and the diverse ways students learn affect reading practices, and learn how to differentiate reading instruction to develop fluent reading practices.
Curriculum, Assessment and Instruction – Reading and Writing

Learn the best ways to instruct your students through detailed data-backed assessment practices. Gain the ability to track student progress on a deeper level, and identify how changes to teaching methods affect that progress.
Exploring Fiction and Nonfiction for Students

Develop critical reading skills for evaluation and interpretation, and how to reflect those complex topics to students. Analyze various books students read throughout the year and discover methods for teaching those books.
Collaborative Responsibility for Literacy

Examine the dynamics between teachers and parents in the context of literacy development. Learn how to approach parents about instilling good reading skills outside of the classroom.
Most master's programs in reading and literacy also allow teachers to advance to specialized positions in their schools. Reading and literacy specialists work with a diverse group of learners, providing guidance on proper literacy development. These specialists often advance to leadership positions in their schools, giving them greater chances to ensure success for a wider range of students.
How will a graduate degree in reading and literacy help my students?
Nearly every job requires some form of reading and writing skill, meaning any additional career development you embark on helps secure bright futures for your students. Reading specialists are better prepared to help those students experiencing difficulty building solid literacy skills, elevating their students to success.
Teachers gain a better understanding of how to build effective learning environments for their students, spurring greater rates of language acquisition for English language learners. Their degree programs prepare them to meet a variety of needs, such as varied teaching practices, remedial work, and individualized instruction.
A master's degree in reading and literacy gives you a better look at a student's individual learning style and unique traits, giving you more insight on how to tailor teaching practices specifically toward that student. Students who feel their teachers understand them on a deeper level are more likely to work harder to develop better reading and writing practices.
Want to know more?
If you're interested in learning more about master's degrees in reading and literacy, research and contact schools offering graduate degree programs in the subject. Pick your state from this map representing Master's in Education programs offered across the country.
Schools Offering Accredited Education Programs
Saint Leo University is a Catholic, liberal arts-based university serving people of all faiths.
Rooted in the 1,500-year-old Benedictine tradition, the university seeks balanced growth in mind, body, and spirit for all members of its community. At University Campus, at education centers, and through the Center for Online Learning, Saint Leo University offers a practical, effective model for life and leadership in a challenging world; a model based on a steadfast moral consciousness that recognizes the dignity, value, and gifts of all people.
Programs:
Master of Education: Reading
MS: Instructional Design
MEd: Exceptional Student Education
Since 1977, Keiser University has maintained a practical, hands-on approach to career-focused education to help our students achieve their personal and professional goals. Our student-centered approach remains at the foundation of the Keiser University mission and continues to attract students who prefer a more personal learning experience.
Programs:
Master of Science in Education, Teaching and Learning
Learning at Full Sail University has always centered around interaction and the exchange of ideas. Our online curriculum fully embraces this philosophy. We have developed our own online learning environment with the aim of being the most people-focused education experience on the web.
Programs:
Instructional Design & Technology
Northcentral University was founded in 1996 to provide working professionals around the world with unprecedented access to richly engaging, professionally relevant, and academically-rigorous education from a U.S. university.
As a regionally accredited, private, online and graduate-focused university, NCU offers doctoral, master's and bachelor's degrees in business, technology management, education, and psychology, as well as doctoral and master's degrees in marriage and family therapy.
Programs:
General Education - Master of Education
MEd - Reading Education
Global Training and Development - Master of Education
And more...
Pacific Oaks College values the experience students bring with them into the classroom. Our faculty will help you fuse your personal and professional experiences with new theories and concepts in a variety of fields.

Pacific Oaks is a nonprofit, accredited higher education institution offering bachelor's-completion, master's, and certificate programs in human development, counseling, education, early childhood education, and teacher credentialing.

Programs:
M.A. Education with Preliminary Education Specialist Instruction Credential
Preliminary Education Specialist Credential
Multiple Subject English Learner Teaching Credential
And more...