Masters in Music Education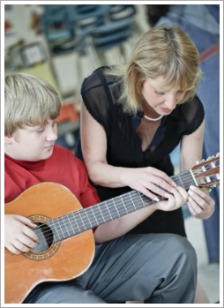 Sweeping orchestral arrangements and blaring symphonies all contribute to the rich tradition of music that has been part of human history for generations. Today, highly qualified music teachers trained in music theory and assessment ensure this tradition lives on by inspiring their students in the classroom.

Find a School
Music teachers enter master's programs in music education to gain a clearer picture of the theoretical concepts behind music creation and appreciation. Music education programs allow teachers to examine and discuss the philosophical and societal foundations of music, in addition to providing them with expanded knowledge of teaching practices.
Graduate programs in music education teach these educators about the best ways to impart musical knowledge on their students. Read on to discover more about the merits of a master's degree in music education.
How will a graduate degree in music education help me as a teacher?
Think about the last time you spent 24 hours without hearing any music. Music is one of the integral aspects of human existence, and has become intertwined in societal norms. To instill a love and appreciation for music in your students, you need a complete understanding of the psychological and societal foundations of music.
Join a vast network of educators
Consider some of the following organizations open to Music Teachers:
In a master's in music education program, teachers examine how students perceive music, and how society's cultural influences affect how a student consumes music. By reviewing and studying music perception in the past and present, teachers can introduce these concepts into their lesson plans, bridging a student's current understanding with music with the historical facts.
Music teachers who earn master's degrees typically move up to teach in higher education. Because classes in higher-level music education place greater emphasis on music theory, master's programs help teachers gain an expanded understanding of the leading principles of music. Musical theory coursework offers teachers the chance to analyze research on music, such as chord grammar and how students develop skills for harmonization.
While teachers focus on learning more about musical theory, their graduate programs also emphasize how to teach these concepts to students. By investigating composition procedures from contemporary and classical musical works, teachers expand their pedagogical skills, ensuring more students retain knowledge of a work.
Teachers in music education programs typically choose between a variety of specializations. Some typical offerings include jazz, orchestration, band, choir, or general music. Regardless of their specialization, teachers in these courses learn differentiated assessment and instruction techniques for their particular focus. This includes analytical rehearsal procedures, where teachers are better able to determine which students struggle with material, in addition to helping those students correct their mistakes.
Subjects Taught: Master's in Music Education
Inquiry in Music Teaching and Learning

Research effective methods of music teaching that foster an inquiry-based learning environment. Learn what motivates students in music class, and how to harness that motivation.

Related Articles

Advanced Studies in Teaching Music

Explore different teaching materials and strategies that emphasize analytical practices in the music classroom. Learn to address individual student concerns and provide better instructional practices to support these students.
Graduate Musical Theory

Review and analyze music theory that helps guide future instructional strategies. Topics include voice-learning principles, writing and analyzing composition, and chorale harmonization.
Measurement and Evaluation in Music

Assess and evaluate your students' learning outcomes to determine effective and ineffective music teaching practices.
Orchestration

Learn how to score pieces using orchestral techniques that take into account brass, wind, strings, and mixed ensembles by listening, researching, and analyzing classical works.
As states deal with budgeting concerns and examine all aspects of school funding, more music teachers will need to advocate for their fields. Earning a graduate degree showcases your expertise in the subject, and gives you an expanded look at how students benefit from music education, allowing you to better represent the field.
How will a graduate degree in music education help my students?
Music carries a rich tradition in history that must be continued by future generations. A master's program in music education provides teachers with opportunities to improve their instructional strategies, fostering a love of music in their students. With an advanced understanding of how to teach complex orchestral arrangements and vocal harmonies, these teachers are better at introducing students to new concepts in music and increasing motivation.
Effective music teaching even carries over to skills outside of the field. Students who participate in orchestra or band during school learn team-building and discipline skills, largely thanks to the leadership of their music teachers. By encouraging practice and hard work in the music classroom, these teachers help their students improve teamwork and motivational skills.
Students consider their music teachers to be coaches, able to introduce strategies and procedures during practice, or rehearsal. Much how effective coaches lead a team's attitude development and skill-building, an effective music teacher imparts life-long skills to their students, improving their understanding of musical concepts and techniques.
Want to know more?
If you're interested in learning more about how a master's degree in music education can help you as a teacher, research and contact schools offering programs in the field. Pick your state from this map representing Master's in Education programs throughout the country.
Schools Offering Accredited Education Programs
Choose from dozens of in-demand degrees. With more than 40 online bachelor, master and doctorate degree programs to choose from, CBU Online gives you plenty of options to consider.
CBU Online was designed for the working professional. Whether you are looking to advance your current career or start the new career path of your dreams. Flexibility means you can earn your degree while working full or part-time. CBU Online is transfer friendly. CBU Online is perfect for those who have families as well.
California Baptist University (CBU), which includes all programs offered by the Division of Online and Professional Studies, is accredited by the Western Association of Schools and Colleges Senior College and University Commission (WSCUC). Many prospective students are uncertain about which college degrees employers or universities will accept. This regional accreditation by WSCUC means you can be confident that your CBU degree is recognized and respected by schools and companies across the country.
Programs:
Master of Science in Education: Specialization in Teaching
Northcentral University was founded in 1996 to provide working professionals around the world with unprecedented access to richly engaging, professionally relevant, and academically-rigorous education from a U.S. university.
As a regionally accredited, private, online and graduate-focused university, NCU offers doctoral, master's and bachelor's degrees in business, technology management, education, and psychology, as well as doctoral and master's degrees in marriage and family therapy.
Programs:
General Education - Master of Education
Master of Science in Educational Psychology
MEd - Reading Education
And more...
Saint Leo University is a Catholic, liberal arts-based university serving people of all faiths.
Rooted in the 1,500-year-old Benedictine tradition, the university seeks balanced growth in mind, body, and spirit for all members of its community. At University Campus, at education centers, and through the Center for Online Learning, Saint Leo University offers a practical, effective model for life and leadership in a challenging world; a model based on a steadfast moral consciousness that recognizes the dignity, value, and gifts of all people.
Programs:
MEd: Exceptional Student Education
MS: Instructional Design
The path to a brighter future isn't always clear. We face roadblocks and detours. Sometimes, we make a wrong turn and get lost. No matter where you are in your journey, Baker College can help you move forward to a rewarding career.
At Baker College, we know the importance of a quality education. We are regionally accredited with award-winning faculty. We will be there every step of the way so you can get where you're going.
Programs:
Elementary Mathematics - Additional Endorsement
Elementary Social Studies - Additional Endorsement
Secondary Mathematics - Additional Endorsement
And more...