Masters in Educational Administration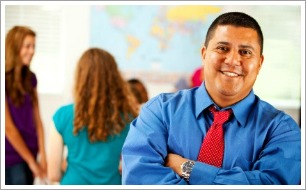 Strong administrative staff set the overall tone at a school.
Without a supportive and nurturing administration, students are more apt to get in trouble, fall in with the wrong crowd, or even drop out of school. However, not everyone is a born leader. Leaders need to prepare and train to meet the various needs of parents, students, and teachers in a school system.

Find a School
Master's degree programs in educational administration help train future school leaders on the ins and outs of successfully cultivating an effective educational environment. By stressing the importance of research and field training, these programs help teachers grow into leaders who influence the directions of their schools.
How will a graduate degree in educational administration help me as a leader?
Schools that offer master's degrees in educational administration provide a candidate with strategies that foster the successful growth of leadership skills. School administrators must make critical decisions that determine the future of a school, meaning significant time is spent studying how to present these decisions to staff members.
Join a vast network of educators
Consider some of the following organizations open to Administrators:
To help future administrators mediate communication within their schools, master's programs stress the importance of active listening and conflict resolution. Students in master's degree programs build these skills by analyzing case studies, interning at other schools, and engaging in simulations that allow them to act out the techniques they research in coursework.
Discipline is a major aspect of school administration. Unfortunately, not every student adjusts to the educational climate well, meaning much of an administrator's day is spent meeting with problem students.
Master's programs in educational administration will help you understand that discipline doesn't simply mean punishing a student for what they did, but also about finding out why the student did it. Many times when students act out there's an underlying problem, and coursework in educational administration will help expand your communication skills to discover the root of that problem.
Given the large budgets administrative officials must manage, master's programs in educational administration also provide administrators with resource and finance management courses. Administrators will analyze schools based on legal, economic, and organizational factors, helping to research and evaluate methods that save money.
Subjects taught: Master's in Educational Administration Program
Role of the Curriculum and Instruction Leader

Explore the concepts of leadership and making hard decisions that affect the school-wide environment. Research leadership theory and case studies of effective leaders.

Related Articles

Principalship

Examine how principals help set the tone at a school by interacting with teachers and staff. Engage in internship opportunities allowing you to shadow real administrative staff.
Planning, Technology, and School Improvement

Discover ways to integrate technology in the classroom while remaining within budget. Gain negotiation and critical thinking skills that will help you implement school-wide improvements.
School Policy and Law

Research how schools navigate legal hurdles, and gain an extended background in educational policy. Learn about different local and national policies and why they're important to the Field of Education.
Diversity in Schools

Look at research and case studies regarding diversity in schools, and how administrators must be culturally aware to provide an inclusive environment for all students.
By providing their students with a holistic view of school leadership, master's in educational administrative programs help ensure these individuals are fully prepared to tackle challenges in education today. Graduates of these programs arm themselves with analytical research skills that help inform their decisions, whether they be about budgeting, curriculum, or disciplinary actions.
How will a graduate degree in educational administration help my students?
Because administrators actively coach educators about teaching styles and communication, your leadership skills directly affect the students they teach. Master's degrees in educational administration offer classes that provide direction to leaders training teachers, allowing them to make curriculum recommendations and set the tone for the classroom.
Educational administration programs also allow leaders to see past the trouble that students encounter, and connect on a deeper level with "problem" students. When these individuals see a child acting inappropriately, they don't become upset or flustered, but fall back on skills gained in their programs to seek out the root of a student's trouble.
Want to know more?
If you're interested in learning more about how a degree in educational administration can improve you as a leader, research and contact schools offering degree programs in the field. Pick your state from this map representing Master's in Education programs throughout the country.
Schools Offering Accredited Education Programs
Since 1977, Keiser University has maintained a practical, hands-on approach to career-focused education to help our students achieve their personal and professional goals. Our student-centered approach remains at the foundation of the Keiser University mission and continues to attract students who prefer a more personal learning experience.
Programs:
Joint Master of Science in Education - Master of Business Administration
Master of Science in Education, Career College Administration
Master of Science in Organizational Leadership
Saint Leo University is a Catholic, liberal arts-based university serving people of all faiths.
Rooted in the 1,500-year-old Benedictine tradition, the university seeks balanced growth in mind, body, and spirit for all members of its community. At University Campus, at education centers, and through the Center for Online Learning, Saint Leo University offers a practical, effective model for life and leadership in a challenging world; a model based on a steadfast moral consciousness that recognizes the dignity, value, and gifts of all people.
Programs:
MEd: Instructional Leadership
Education Specialist in Educational Leadership
MEd: Educational Leadership
And more...
The path to a brighter future isn't always clear. We face roadblocks and detours. Sometimes, we make a wrong turn and get lost. No matter where you are in your journey, Baker College can help you move forward to a rewarding career.
At Baker College, we know the importance of a quality education. We are regionally accredited with award-winning faculty. We will be there every step of the way so you can get where you're going.
Programs:
Educational Leadership: K-12
Northcentral University was founded in 1996 to provide working professionals around the world with unprecedented access to richly engaging, professionally relevant, and academically-rigorous education from a U.S. university.
As a regionally accredited, private, online and graduate-focused university, NCU offers doctoral, master's and bachelor's degrees in business, technology management, education, and psychology, as well as doctoral and master's degrees in marriage and family therapy.
Programs:
Instructional Leadership - Master of Education
Organizational Leadership - Master of Education
Leadership in Higher Education - Master of Education
And more...
Choose from dozens of in-demand degrees. With more than 40 online bachelor, master and doctorate degree programs to choose from, CBU Online gives you plenty of options to consider.
CBU Online was designed for the working professional. Whether you are looking to advance your current career or start the new career path of your dreams. Flexibility means you can earn your degree while working full or part-time. CBU Online is transfer friendly. CBU Online is perfect for those who have families as well.
California Baptist University (CBU), which includes all programs offered by the Division of Online and Professional Studies, is accredited by the Western Association of Schools and Colleges Senior College and University Commission (WSCUC). Many prospective students are uncertain about which college degrees employers or universities will accept. This regional accreditation by WSCUC means you can be confident that your CBU degree is recognized and respected by schools and companies across the country.
Programs:
Master of Science in Education: Specialization in Educational Leadership