Masters in Early Childhood Education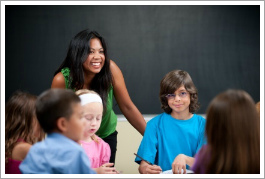 What goes on inside of a child's mind?
Watching a young student playing with a truck or airplane, rolling a ball, or sharing toys has far deeper connotations than meets the eye. Teachers need strong observational and analytical skills to determine how these seemingly playful interactions factor into greater cognitive and emotional growth.

Find a School
Early childhood education graduate programs help teachers develop those skills needed to decipher the everyday actions of babies, toddlers, and children. Master's degree programs focused on early childhood education help reinforce a teacher's observational, assessment, and teaching abilities with children from birth to age eight. Discover how teachers hone their skills through research and evaluation in the early childhood classroom…
How can a graduate degree in early childhood education help me as a teacher?
Master's programs in early childhood education help prepare teachers to better interpret and lead students through their early development stages by providing teachers with a greater understanding of research and knowledge in childhood development.
Join a vast network of educators
Consider some of the following organizations open to Early Childhood Educators
During their early developmental years, children build up physical knowledge of the world, language development, social and moral development, and basic motor skills, all while expressing this development through play. Master's programs give teachers expanded tool sets to analyze this play, making observational conclusions about a child's developmental progress.
In a master's program in ECE, you'll learn how to better determine the goals of children by observing their actions and employing assessment tools like the Early Childhood Environment Rating Scale and the Classroom Assessment Scoring System. This allows teachers to analyze classroom settings, a child's individual work, group interactions, and play.
Using assessment and observational skills mastered in a graduate program, you'll confidently answer questions about what goals children try to accomplish through play, why they took those actions, and then help them develop critical thinking skills by discussing alternative actions to accomplish their goals.
Coursework in early childhood education programs provides teachers with expanded resources to effectively guide their students through early childhood. Some of the typical classes you'll take in an early childhood education program include:
Developmental Learning

Examine the theories and concepts behind early childhood development and learning, including social, cognitive, and emotional development.
Families, Societies, and Schools

Paint a clearer picture of the links between family and societal effects on early childhood development. Learn how to better integrate school and family learning by addressing common concerns that arise between parents and teachers.
Observation, Documentation, and Assessment

Learn how to properly observe and document early childhood growth, guiding students through some of their most formative years.
Teaching Early Childhood Subject Matter

Early childhood teachers introduce children to subjects like literacy, science, art, and math. These courses focus on giving teachers resources and methods to jump start the learning process in these subjects for young students.
Language Development

These courses allow teachers to better understand the study of spoken and written language for children. Teachers examine functions and structures of language, and how children acquire the ability to speak clearly and properly.
By gaining knowledge of the challenges and processes behind early childhood growth, teachers help create nurturing classroom environments and encourage skill development and critical thinking abilities that lead to future student success.
How will a graduate degree in early childhood education help my students?
Preschool through second grade might seem like child's play to most, but in reality it is so much more. Children from birth through age eight first begin to develop many of the critical thinking skills and social abilities that will determine their future personalities.
In fact, researchers believe quality early education to be a significant factor in later life success. Several studies found students with high-quality early childhood education were less likely to drop out of school and have future legal trouble, cementing the importance of highly qualified teachers in students' early years.
Teachers with master's degrees in early childhood education help provide high-quality education for their young students, applying the research and abilities they studied in their graduate programs to the classroom. With the guidance and leadership of these teachers, children are better able to make sense of the world around them, beginning their development of skills in art, writing, self-awareness, and emotional understanding.
Want to know more?
Effective and highly educated early childhood teachers are needed to guide young students through the hurdles and challenges of youth. If you're interested in learning more how a master's in early childhood education can help you become an even more effective teacher, research and contact schools offering degree programs in ECE. Pick your state from this map representing Master's in Education programs throughout the country.
Schools Offering Accredited Education Programs
Northcentral University was founded in 1996 to provide working professionals around the world with unprecedented access to richly engaging, professionally relevant, and academically-rigorous education from a U.S. university.
As a regionally accredited, private, online and graduate-focused university, NCU offers doctoral, master's and bachelor's degrees in business, technology management, education, and psychology, as well as doctoral and master's degrees in marriage and family therapy.
Programs:
Early Childhood Education - Master of Education
General Education - Master of Education
MEd - Reading Education
And more...
Choose from dozens of in-demand degrees. With more than 40 online bachelor, master and doctorate degree programs to choose from, CBU Online gives you plenty of options to consider.
CBU Online was designed for the working professional. Whether you are looking to advance your current career or start the new career path of your dreams. Flexibility means you can earn your degree while working full or part-time. CBU Online is transfer friendly. CBU Online is perfect for those who have families as well.
California Baptist University (CBU), which includes all programs offered by the Division of Online and Professional Studies, is accredited by the Western Association of Schools and Colleges Senior College and University Commission (WSCUC). Many prospective students are uncertain about which college degrees employers or universities will accept. This regional accreditation by WSCUC means you can be confident that your CBU degree is recognized and respected by schools and companies across the country.
Programs:
Master of Science in Education with Specialization in Early Childhood Studies
Master of Science in Education: Specialization in Teaching
Since 1977, Keiser University has maintained a practical, hands-on approach to career-focused education to help our students achieve their personal and professional goals. Our student-centered approach remains at the foundation of the Keiser University mission and continues to attract students who prefer a more personal learning experience.
Programs:
Master of Science in Education, Online Teaching and Learning
Master of Science in Education, Teaching and Learning
The path to a brighter future isn't always clear. We face roadblocks and detours. Sometimes, we make a wrong turn and get lost. No matter where you are in your journey, Baker College can help you move forward to a rewarding career.
At Baker College, we know the importance of a quality education. We are regionally accredited with award-winning faculty. We will be there every step of the way so you can get where you're going.
Programs:
Early Childhood ZA to ZS - Additional Endorsement
Elementary Education and Early Childhood Education - Level Change
Elementary Mathematics - Additional Endorsement
And more...
Saint Leo University is a Catholic, liberal arts-based university serving people of all faiths.
Rooted in the 1,500-year-old Benedictine tradition, the university seeks balanced growth in mind, body, and spirit for all members of its community. At University Campus, at education centers, and through the Center for Online Learning, Saint Leo University offers a practical, effective model for life and leadership in a challenging world; a model based on a steadfast moral consciousness that recognizes the dignity, value, and gifts of all people.
Programs:
MEd: Exceptional Student Education
MS: Instructional Design