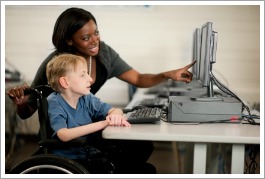 Imagine Susan, born with spina bifida and epilepsy, although her brain is normally developed and she's very bright. Now, picture this happening 40 years ago. Susan is unable to attend school because of her lack of mobility. She needs mobility assistance that the school simply isn't equipped for. Her social life is bleak; she rarely interacts with other children because she isn't in school.
Her employment outlook, without a high school diploma, is dim. Susan lives on disability benefits, with her mother, until her mom passes on. Eventually, she ends up in a nursing home, as a relatively young woman, because she never developed the necessary skills for an independent, fulfilling life. Susan never developed to her full potential. She never had a chance.
Prior to 1975, children with disabilities weren't guaranteed an education in the United States. The Individuals with Disabilities Education Act (IDEA) changed that, mandating that children between three and 21 be granted a free public education.
Because of IDEA, today's Susan has access to public schools with wheelchair ramps and doors wide enough for her to navigate the halls. Her teachers are trained to know how to handle a seizure, and how to keep her safe should one occur. Teachers and students don't underestimate her creative and intellectual abilities simply because she needs help getting around. She is exceptional at math and art. She thrives around her peers. She's quite a wheelchair dancer; she's a star on the debate team; and she loves to sing in her school choir. She's the salutatorian at her high school graduation and plans to attend Harvard Law School.
For many kids, special education and multiple disabilities specialists are the transformative heroes of their lives. Their attention, dedication, patience, and training helps these students reach their highest potential.
What is it like?
Being a multiple disabilities specialist isn't for the weak. It's one thing to teach a child with one disability; it's quite another to work with a child with many disabilities. Some special needs students cannot communicate at all; others can only communicate by sign language. Many students have physical disabilities; others have forms of mental retardation; still others have learning disorders. There may also be behavioral diagnoses to which you'll have to respond.
Defying the Odds
Marla Runyan was born legally blind; despite low expectations, she grew up to be a two-time Olympic runner.
Sudha Chandran's leg was amputated; however, she'd been dancing since she was five and was passionate about it. She continued to dance with a prosthetic device and also became an actress.
Stephen Hawking was diagnosed with Lou Gehrig's disease in his college years, and told he would die in two years. Instead, he became one of the world's foremost scientists.
Marlee Matlin, deaf since she was 18 months old, is the only deaf actress to have won an Academy Award.
Dr. Temple Grandin, autistic, is a doctor of animal science and a professor at Colorado State University, and has been revolutionary in improving mass farming practices.
Tom Cruise, dyslexic, became a Hollywood icon by having his scripts read to him and memorizing every word.
Teachers of students with multiple disabilities must have an understanding of a very broad range of disabilities, and keep up with the ever-changing developments in useful therapies and learning approaches. This career takes an incredible amount of patience and compassion, as well as a drive for personal learning and self-improvement.
Multiple disabilities specialists also need to become confident enough in their abilities to identify a student's disability. It's often during their educational experience that children are first identified as being autistic, or having attention deficit disorder (ADD) or other learning disabilities such as dyslexia. The field of autism education, for example, has changed rapidly in recent years. Because so little is known about the spectrum and severity of symptoms, there is a multitude of anecdotal evidence for certain diagnoses and therapies, but still little solid scientific backing. Still, parents and teachers alike are willing to try everything to help their autistic children make progress.
A multiple disabilities specialist will need training on a multitude of assistance technologies. Assistance equipment is making rapid progress, from sophisticated hearing aids to assistive playground equipment. Understanding how this equipment works and how to best use it will become an integral part of your job.
As a multiple disabilities specialist, you'll also need to do some heavy lifting—literally. Many children will need assistance to move from wheelchairs to swing sets or to the restroom, or maybe just help standing. Some students will need to have diapers changed, or you may have to help potty train students. Some parts of the job are just hard; there's no way to sugar-coat it.
Each student will have an individualized education program (IEP) that addresses his or her unique needs. Multiple disability specialists have an integral role in helping creating each student's IEP. They'll help evaluate students' current abilities and inabilities, and identify areas for progress. Then, an educational plan will be created that all teachers involved with the student, as well as the student's parents, will follow throughout the year. The program will also be reviewed periodically by the team of teachers and parents. The plan will include life skills, social skills, and academic skills, and it involves a lot of time and attention on each individual student.
Thus, still another responsibility of the multiple disabilities specialist is to train other teachers in modifying lesson plans to suit students' individual disabilities. As much as possible, in today's current system, students are integrated or mainstreamed into the classroom. Thus, teachers who have little to no special education training are responsible for making sure their student plans are modified to meet each kid's needs. Without training, they rely on the IEP and the disability specialist to help determine what's appropriate.
This is a job that requires an extreme amount of dedication, as well as a lot of additional training and knowledge. If you're interested in becoming a multiple disabilities specialist, it's highly recommended that you spend some time around children with a variety of disabilities. Many schools are so short on volunteers that they'll welcome an added set of hands for a few weeks while you test the waters.
Can I get a job?
Multiple disabilities specialists can certainly get jobs. There is a huge demand for this specialization. There are growing numbers of students with diagnosis such as autism and ADD, as well as other disorders that may have previously gone unacknowledged and/or undiagnosed by the school system.
The Hidden Gifts of Disabilities
Students with disabilities develop more determination and perseverance, knowing that if they try long enough and hard enough they'll eventually accomplish their goals.
Because these kids are different and they have to overcome many challenges, they're more likely to be compassionate toward others who face similar obstacles.
Those who struggle with even the simplest goals—learning to communicate, becoming a proficient reader—develop a patience that most don't find it necessary to attain.
Kids who struggle with disabilities are very resilient. They understand that there will likely be setbacks, and learn to manage the obstacles life throws at them.
There is also a very high turnover rate in special education, so there are always openings. The job can be very stressful and there is a huge amount of responsibility for special education specialists. Within the first five years of their careers, 50 percent of special education teachers either quit teaching or transition to a regular classroom. Of those that remain, 50 percent leave special education within 10 years.
This isn't necessarily tragic—five to 10 years of a person's gifts being dedicated to such a calling is a generous gift to every life they've touched.
The National Association of Special Education Teachers will provide you with many teaching resources, including those that will help you obtain certifications, learn new teaching methods, and help you secure a teaching contract.
What salary can I expect?
In high school, special education teachers make a median salary of $55,000. At the elementary level it is around $52,000. Starting salary is between $30,000 and $40,000. Those with other certifications may be offered more than other teachers. Teachers are paid more depending on experience, and are also compensated for additional training or education.
There is a desperate need for multiple disabilities specialists in high risk areas. The government has loan forgiveness programs for teachers who are willing to take jobs at these schools for certain periods of time. Many districts in high risk areas will also offer loan payoff programs to entice new teachers to their schools. These teaching positions are usually in low income, high minority, rural, or inner city locations around the country.
In addition to salary, there are the perks of summer vacation, spring break, and Christmas break. You should also carefully look at the entire benefits package, from the health insurance benefits to the retirement plan, as it may have more value to you than a higher salary.
How do I become a multiple disabilities specialist?
You'll need a bachelor's degree in special education to become a multiple disabilities specialist. Board Certification in Special Education (BCSE) from the National Association of Special Education Teachers may not be required by your state, but it will make you more marketable and very possibly increase your starting salary. There are other certifications that also will improve your marketability, and give you further resources, including National Orientation and Mobility Certification (NOMC), the National Certification in Literary Braille (NCLB), National Blindness Certification (NBPCB), and many others.
Additionally, you'll need to complete a teaching certification program. Each state has its own requirements for this; visit the teaching certification requirement website to find out exactly what you need to do. After completing your coursework, you'll get a great experience student teaching, spending time in the classroom learning from an experienced mentor teacher.
A multiple disabilities specialist career is a very difficult job, and one that is extremely stressful. However, it is one of the most noble careers and a fantastic service to students and the entire community. Helping students reach their highest potential may be your higher calling, if so, visit teaching-certification.com to find out more.
Schools Offering Accredited Education Programs
<!- mfunc feat_school ->
Recommended Programs for Educators:
Sponsored School(s)
<!- /mfunc feat_school ->