Masters in Early Childhood Special Education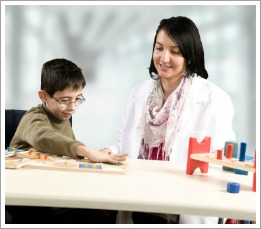 Every child deserves the attention and commitment of their teachers. As children develop socially, cognitively, and emotionally in their early years, expert teachers help guide these students past any pitfalls or challenges.

Find a School
However, certain children may require more attention than others. Children with special needs bring their own specific challenges to the classroom, meaning teachers must gain advanced education to manage these children effectively.
Master's programs in early childhood special education expand a teacher's understanding of instructional techniques, individualized education plans, and accommodations used while teaching young students with special needs. Discover how these programs mix research opportunities and professional development to create expert early childhood special education teachers…
How will a graduate degree in early childhood special education help me as a teacher?
In early childhood, students develop many of the social and emotional skills and qualities that determine their future personalities and qualities. Because children gain many of these skills through play, teachers are in charge of ensuring that play at school and at home improves student outcomes. Teachers who gain a master's-level education have expanded communication skills that allow them to collaborate with other teachers, parents, and other community members to ensure more positive outcomes for students with special needs.
Join a vast network of educators
Consider some of the following organizations open to Early Childhood Special Educators
Most graduate programs in early childhood special education explore the medical and physiological impacts of developmental disabilities, in addition to intervention strategies that lessen those impacts. Teachers expand their understanding of typical and atypical childhood development characteristics, and how to identify atypical development using assessment tools.
With a better picture of the characteristics of special needs students, teachers also learn about different ways to meet those needs in the classroom. Master's courses in early childhood special education provide teachers with more tools for individualized education plan (IEP) development. Teachers write IEPs to analyze a student's strengths and problem areas, and propose in-class solutions for those areas.
Sound research and scientifically-backed practices must influence all instructional decisions early childhood special education teachers make. Master's programs in the field help teachers stay up to date on new research in special education, including new methods of assessment, diagnosis, and evaluation. With a greater understanding of the research in the area, teachers are better prepared to make accurate assessments and provide effective intervention strategies to their students.
For example, early childhood teachers are responsible for helping children gain many of the language and speech skills that help them build literacy abilities later in life. Graduate coursework in early childhood special education prepares teachers to modify traditional literacy education plans to work in the special education classroom, promoting more advanced communication skills in children.
Subjects Taught: Early Childhood Special Education
Principles and Practices in Early Childhood Special Education

Learn how to assess, diagnose, and evaluate young children with disabilities. Promote positive social interaction and skill-building play in children.

Related Articles

Educating Students with Special Needs

Learn strategies to meet the needs of children with special needs, whether those needs are cognitive, emotional, or social. Learn to collaborate with other teachers and parents to ensure positive change across the board.
Assessment, IEP Development, and Instructional Planning

Learn the qualities of typical and atypical childhood development, and how to create IEPs to support effective intervention strategies in special needs students.
Research in Early Childhood Special Education

Analyze research journals and new assessment strategies in special education. Learn to back teaching practices and lesson planning with empirical evidence in the field.
Laws and Regulations in Early Childhood Special Education

Explore the laws that govern special education teaching. Ensure you're meeting all requirements in the classroom and determine the reasons for those requirements.
Master's programs qualify special education teachers to take on greater leadership roles at their schools. In leadership roles, early childhood special education teachers have more opportunities to influence curriculum design and the overall direction of the school.
How will a graduate degree in early childhood education help my students?
Teachers who earn master's degrees in early childhood special education are better equipped to improve the lives of their students. With a greater understanding of identification and assessment of early childhood developmental disabilities, children gain access to better care more quickly.
Children whose needs are met quickly and efficiently are more likely to develop social and cognitive skills that help them integrate into traditional classrooms, meaning better learning outcomes for students later in life.
The communication strategies that teachers gain in graduate programs also mean better collaboration between schools and parents at home. Expert teachers help ensure their special needs students have ample support from all corners of life.
Want to know more?
If you're interested in learning more about degrees in early childhood special education, research and contact schools offering degree programs. Pick your state from this map representing Master's in Education programs throughout the country.
Schools Offering Accredited Education Programs
Online Learning at Concordia University–Portland
If education is your passion, Concordia University-Portland is your university. One of the most respected names in learning today, Concordia offers several fully online Master of Education (MEd) programs—most of which can completed in one year—and a fully online Doctorate of Education (EdD) program. Our graduates stand out with the skills, integrity, and compassion necessary to meet the ever-changing needs of students today. Together, we're all making an impact in education.
Programs:
M.Ed. in Curriculum & Instruction: The Inclusive Classroom
M.Ed. in Curriculum & Instruction: Social Studies
M.Ed. in Curriculum and Instruction STEM (Science, Technology, Engineering, and Mathematics)
And more...
Northcentral University was founded in 1996 to provide working professionals around the world with unprecedented access to richly engaging, professionally relevant, and academically-rigorous education from a U.S. university.
As a regionally accredited, private, online and graduate-focused university, NCU offers doctoral, master's and bachelor's degrees in business, technology management, education, and psychology, as well as doctoral and master's degrees in marriage and family therapy.
Programs:
Special Education - Master of Education
Master of Science in Educational Psychology
MEd - Reading Education
And more...
Learning at Full Sail University has always centered around interaction and the exchange of ideas. Our online curriculum fully embraces this philosophy. We have developed our own online learning environment with the aim of being the most people-focused education experience on the web.
Programs:
Instructional Design & Technology
Abilene Christian University is a national leader in Christian higher education and a place where students, faculty, staff and alumni make a real difference in the world.
Programs:
Master of Education in Higher Education